Alaska Department of Fish and Game
---
Secondary Site Navigation
Fish Passage Inventory Projects

Fish Passage Restoration Overview
ADF&G works with partners to replace or remove barriers to fish passage throughout the state. Culverts identified as barriers during ADF&G Fish Passage Assessment Program are removed and replaced with bridges or with fish friendly culverts, using a stream-simulation design. A stream simulation culvert is designed and constructed so that the channel inside the culvert is virtually indistinguishable to the natural stream channel up and downstream. This allows fish and other aquatic organisms to freely pass up and downstream.
ADF&G provides funding and technical assistance for barrier removal or culvert replacement on 5-10 projects each year. These are some of the projects ADF&G has worked on recently.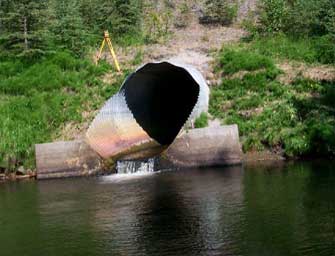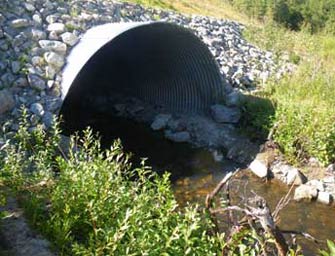 Coal Creek, Kalifornsky Beach Road, Kasilof, Alaska. An undersized and perched culvert was replaced with an 18 foot diameter embedded stream simulation culvert that provides passage for fish and mammals. Partners include the Alaska Department of Transportation and Public Facilities, the U.S. Fish and Wildlife Service and the Kenai Watershed Forum. Coho and pink salmon spawn and rear in Coal Creek, a tributary to the Kasilof River.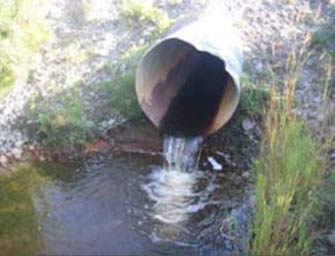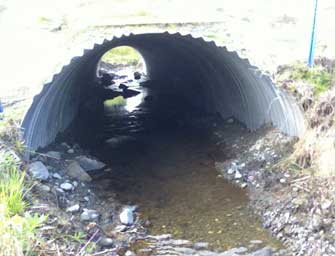 Stariski Creek Tributary at Tall Tree Road, Nikolaevsk, Alaska before and after replacement with a fish-friendly culvert in 2011. Partners include the Kenai Peninsula Borough and Kenai Watershed Forum. Coho salmon and Dolly Varden trout use this stream.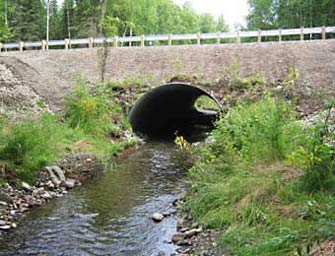 Caswell Creek tributary at Hidden Hills Road, shown before and immediately after replacement a fish-friendly culvert in the summer of 2012. Partners on this project include the Matanuska-Susitna Borough and the U.S. Fish and Wildlife Service. Coho salmon use this creek for spawning and rearing and an adult salmon was observed upstream of the culvert three months after replacement. Salmon had not previously been recorded upstream of the road.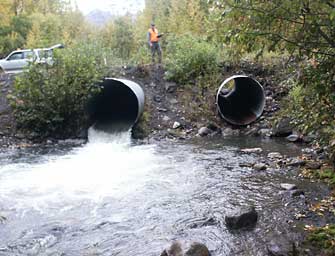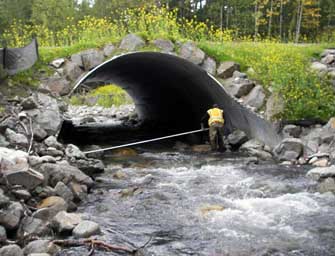 Eska Creek at Jonesville Mine Road in Sutton, before and after replacement in 2011. The old culverts were undersized and perched at the outlet preventing juvenile fish from accessing upstream habitat. Coho and Chinook salmon use Eska Creek for spawning and rearing. Eska Creek is a tributary of the Matanuska River.