Moose Hunting in Alaska

Life History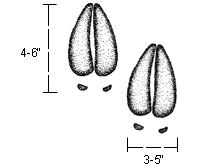 Tracks
Two crescents shaped halves with two dew claws. The tips leave a deeper impression in snow or on soft ground.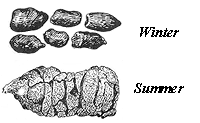 Scat
Depends on the season and food source. Pellet shape is directly related to the moisture content in the food. In winter, pellets are hard and dry.
Heavy bodied and long-legged, with a drooping nose, moose (Alces alces) are the largest members of the deer family. They range in color from golden brown to almost black, depending upon the season and the age of the animal. Full-grown males (bulls) stand almost 6 ft (1.8 m) tall at the shoulder, and males in prime condition weigh from 1,200 to 1,600 lbs (542 –725 kg). Adult females are somewhat smaller and weigh 800 to 1,300 lbs (364 – 591 kg). A 1,600-lb (726-kg) moose will dress out at about 950 lbs (431 kg), yielding approximately 500 lbs (227 kg) of meat. Alaskans and nonresidents annually harvest 6,000 to 8,000 moose, which translates into about 3.5 million pounds of usable meat.
Only bull moose have antlers. The largest moose antlers in North America come from Alaska, the Yukon Territory, and the Northwest Territories of Canada. Trophy class bulls are found throughout Alaska, but the largest come from the western portion of the state. Moose occasionally produce trophy-size antlers when they are 6 or 7 years old, with the largest antlers grown at approximately 10 – 12 years of age. In the wild, moose rarely live more than 16 years.
Moose are generally associated with northern forests in North America, Europe, and Russia. In Europe, they are called "elk." In Alaska, they occur in suitable habitat from the Stikine River of Southeast Alaska to the Colville River on the Arctic Slope. They are most abundant in recently burned areas that contain willow and birch shrubs, on timberline plateaus, and along the major rivers of Southcentral and Interior Alaska.
During fall and winter, moose consume large quantities of willow, birch, and aspen twigs. In some areas, moose actually establish a "hedge" or browse line 6 to 8 ft (1.8 – 2.4 m) above the ground by clipping most of the terminal shoots of favored food species. Spring is the time of grazing as well as browsing. Moose eat a variety of foods, particularly sedges, equisetum (horsetail), pond weeds, and grasses. During summer, moose feed on vegetation in shallow ponds, forbs, and the leaves of birch, willow, and aspen.