Commissioner's Welcome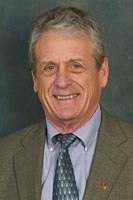 Thanks for visiting our website, where we have a wealth of information about Alaska's fisheries and wildlife, educational events, the board process, and much more. Our site offers a wide range of features, including interactive maps, an e-Library with thousands of helpful resources, and our online magazine, Alaska Fish and Wildlife News – and we are glad you are here.
If you have a little time, I invite you to watch a 20-minute video about our department. You will get a glimpse into the five regions of Alaska and learn more about some of our research projects and the wide variety of animals that call this state home.
Alaska: Our Resources, Our People
While you are here, we also invite you to check out our online store to purchase licenses, tags, stamps, and permits. This is a great way to get outdoors and enjoy our fish and wildlife resources while supporting our work to sustainably manage fish and wildlife so future generations can enjoy these resources, too.
We hope you find this website helpful. Should you require immediate assistance in finding information on a specific topic, use the contact page to find an office location nearest you. You can also contact our department webmaster if you need help or want to share your ideas or suggestions: dfg.webmaster@alaska.gov.
Thanks again for visiting our website today, and we hope you come back again soon.
Sam Cotten
Commissioner