Alaska Department of Fish and Game
---
Most ADF&G website information and services will not be available on Sunday, October 11 as the State of Alaska will be doing planned maintenance in Juneau on that date between 5 am – 9 pm AKST. We apologize for any inconvenience this may cause.
Facebook
Twitter
Google+
Reddit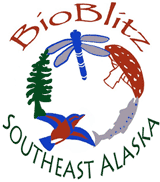 Bioblitz
A Bioblitz is a race against time to find and count as many species as possible in a given area in a 24-hour time period. Bioblitzes are a blend of science, celebration, education and community, where biologists, naturalists and citizens team up to discover beetles and bears, ferns and frogs, wasps and whales — any living thing they can find. The event is free and open to all. Stay tuned for the next community Bioblitz.
4th Grade Auke Bay Bioblitz
Every year in Juneau, a 4th grade Bioblitz is organized to highlight the biodiversity in our backyard. Somewhat different from the community Bioblitz, 4th graders pair up with local scientists to learn sampling protocols, collection techniques, species identification and data recording. Every year, students record information that will be added to a time series to monitor changes in the Auke Bay area. Local scientists and community members volunteer their time to teach over 200 students from 8 elementary schools during the day-long event.
Scientists and naturalists interested in joining a survey team, please contact Michael Kohan at michael.kohan@alaska.gov or by phone at 465-8155.
This event is a partnership between the Alaska Department of Fish and Game, NOAA, University of Alaska Southeast, U.S. Forest Service and U.S. Fish and Wildlife Service.
Secondary Site Navigation
Citizen Science
Alaska Department of Fish and Game
P.O. Box 115526
1255 W. 8th Street
Juneau, AK 99811-5526
Office Locations