Alaska Department of Fish and Game
---
Most ADF&G website information and services will not be available on Sunday, October 11 as the State of Alaska will be doing planned maintenance in Juneau on that date between 5 am – 9 pm AKST. We apologize for any inconvenience this may cause.
Facebook
Twitter
Google+
Reddit

Restoration and Enhancement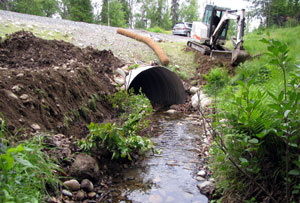 Whether improving existing habitats or returning degraded habitats to their natural condition, the Alaska Department of Fish and Game attempts to conserve our fish and wildlife populations through protection of healthy habitats and rehabilitation of impacted habitats. The Department works on impacted and healthy habitats throughout the state to restore riparian habitat, restore fish passage, enhance wildlife habitat, complete cost share programs with landowners and land managers, and provide educational opportunities on these subjects.
Secondary Site Navigation
Lands & Waters
Alaska Department of Fish and Game
P.O. Box 115526
1255 W. 8th Street
Juneau, AK 99811-5526
Office Locations