Boating and Angler Access Grant Program Overview
Grant Program Overview
The Federal Aid in Sport Fish Restoration (SFR) Act, often referred to as the Dingell-Johnson (D-J) Act or the Wallop-Breaux (W-B) Amendment, not only provides funding for sport fisheries management and research, but also funds projects to improve recreational power boating and sport fishing access. This legislation has created a model "user pay/user benefit" program through federal excise taxes and import duties placed on sport fishing equipment, recreational powerboats, and gasoline used in recreational boats. The tax revenue collected by the U.S. Treasury is transferred to the U.S. Department of Fish and Wildlife Service, which is the agency responsible for administering the SFR program.
The Alaska Department of Fish and Game (ADF&G) is the only department in state government that is allowed to receive and use SFR funds. The SFR program will cover up to 75% of the cost of an eligible project and requires a 25% non-federal match, which is often met through the sale of sport fishing licenses. To help control program costs, projects are often partnered with other state departments, as well as local governments.
The ADF&G Sport Fish Division has both regional and statewide staff who work with state and federal land managers and local governments to identify, facilitate design and construction, and fund capital improvements and maintenance of boating access sites. Projects are built to Americans with Disabilities Act (ADA) guidelines and include boat launches and parking areas, restrooms, transient moorage, fish cleaning facilities, and other fresh water and marine access site improvements.
Over the years, the Recreational Boating and Access Program has helped to open boating and angler access to many Alaskan waters, both fresh and marine. Over 160 capital improvement projects have been accomplished, which have provided new and improved access to sites throughout the state. Twice as big as Texas, yet with fewer roads than Delaware, Alaska presents unique recreational access challenges. Even so, if you've ever fished or boated in Alaska, chances are you used a facility constructed through the Division of Sport Fish Recreational Boating and Angler Access Program.
Funding Restrictions
According to federal aid regulations, SFR grants can be approved only if they primarily benefit the recreational boating and sport fishing public. These funds cannot be used for projects that primarily support subsistence, personal use, or commercial fishing groups. Subsistence and personal use fisheries are restricted to Alaska residents only and are therefore not open to the public in the federal sense. In addition, the "methods and means" used in subsistence, personal use, and commercial fisheries - gillnets, set nets, and dip nets - are not allowed in sport fisheries, and are thus not subject to the excise tax that supports the Recreational Boating and Angler Access Program. Other users may use an SFR project, but such use cannot displace recreational boater and sport angler use.
Two Types of Projects: Recreational Boating and Angler Access (Non-Boating)
The Wallop-Breaux (W-B) Amendment to the SFR Act requires that a minimum of 15% of SFR funds allocated to Alaska must be used for recreational power boating access projects. However, there is no such requirement on the use of SFR funds for angler access projects. Funding requests for angler access projects compete directly with other Division of Sport Fish SFR programs, such as research, management, hatchery support, information and education, and habitat restoration. Since a large portion of boating access funds comes from federal taxes on fuel and recreational power boats, project proposals that primarily benefit non-motorized boats (canoes, kayaks, and rafts) or diesel-powered boats do not qualify as recreational boating related projects. However, these proposals may be considered for SFR angler access funding.
Recreational Boating Projects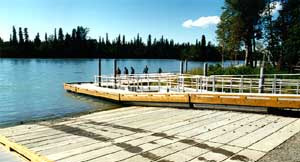 SFR boating access funds must be used only for constructing, renovating, improving, or maintaining access for marine or freshwater trailerable (under 26 feet), gasoline-powered boats. Examples are boat launch ramps, transient docking facilities, fish cleaning tables, parking areas, restrooms, land acquisition and development for power boating use, and related support facilities.
» Listing of eligible boating access projects
Recreational Angler Access (Non-Boating) Projects
SFR non-boating funds can be used for acquiring land, and constructing, improving, or maintaining public works such as sport fishing-related parking and camping areas, trails, fishing piers or docks, fish cleaning tables, restrooms, and associated facilities that are not related to power boating use.
» Listing of eligible angler access projects
Project Identification
Recreational access needs are assessed and projects identified by the local Sport Fish Area Management Biologist (AMB) or Access Program staff. The AMB submits a list of project ideas annually to the Access Program Manager, who then reviews and researches the projects to ensure adherence to SFR regulations and Division of Sport Fish Access Program guidelines. Project ideas are ranked utilizing established criteria and are then prioritized based on project validity, need, and funding availability.
Additional Resources