Statewide Aquatic Resources Coordination Unit (SARCU)

Overview
Water of sufficient quality and quantity are among the essential elements for sustaining production of Alaska's valuable fish and wildlife resources in rivers, lakes, estuaries, and wetlands. In some instances, Alaskan waters produce the most viable fish and wildlife populations in the world. Continued wise management of these resources is essential to the overall economic and social well being of Alaskans.
The Statewide Aquatic Resources Coordination Unit (SARCU) was established by the Alaska Department of Fish and Game (ADF&G) as one of its tools for meeting water demands of the department for sustaining healthy fish and wildlife production.
The SARCU provides departmental coordination, scientific expertise, core personnel, data collection and analyses, and other relevant scientific information and actions needed by the ADF&G to comply with state, federal, and local laws. Fish, wildlife, and aquatic data are obtained, analyzed, and effectively used to make recommendations for sustaining fish and wildlife production, including waterway access. Examples of these actions are to quantify instream flow requirements for fish and wildlife, quantify diversionary and water withdrawal requirements for hatcheries and other departmental facilities, file for water rights for instream flow and out of stream uses, and provide scientific based recommendations to state federal and local permitting authorities for avoiding and mitigating impacts of water related developments to fish and wildlife production. The multi-divisional unit is headquartered in Anchorage with staff based in Anchorage and Juneau (Douglas Island).
Background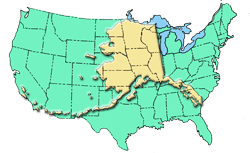 Alaska is the largest state in the nation and approximately a fifth of the size of the lower 48 contiguous states. Almost half of the Nation's total surface waters are located in Alaska. Water quality, for the most part, is excellent throughout the state.
Alaska's overall stage of water development is similar to that of the Lower 48 states 150 years ago. This can be attributed to Alaska's infancy as the 49th state and the associated limited transportation infrastructure, limited population, and present small demand for water resources. Currently, less than 1 percent of Alaska's water resources have been allocated for various uses. In comparison to other states, Alaska's population of approximately 600,000 people is relatively small versus the state's large geographic size and environmental diversity. Many population centers and most waterways are inaccessible by road. Similarly less than one percent of the state's waterways have been inventoried to establish short- and long-term seasonal water volumes and availability. Historical baseline biologic data are also limited.
The health of Alaska's waters and fish and wildlife populations combined with the relatively small amount of competition for these resources mask the limited amount of scientific knowledge readily available for assessing new developments.
This is a challenge to scientists and resource managers because the pace to develop more water projects throughout the state is increasing. Existing and proposed major water uses can be categorized as water diversions, impoundments, and withdrawals. These water uses support municipal, industrial, hydropower generation, agricultural, mineral, oil and gas, hatchery, fish processing, artificial snowmaking (for ski areas), water export, and other water dependent projects/developments.
Alaskans are uniquely situated to take advantage of their state's infancy and early stages of limited resource and population development to promote developments that are both economical and environmentally sound.