Alaska Department of Fish and Game
---
Living With Bears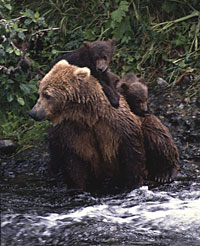 One thing that makes Alaska so special is that all three species of North American bears flourish here. There is a chance that you may be lucky enough to see a bear. But even if you don't, you will never be far from one, because Alaska is bear country.
By learning about the lives of black bears, brown bears (including grizzly), or polar bears, you will enhance your enjoyment of these species. Whether you are learning about bears for the purpose of hunting, viewing, travelling safely, or deterring bears from your property, the more you know the better.
Living in Bear Country
Whether you live in a rural or urban area of Alaska you are living and/or camping in bear country. The privilege of living in a state with large predators comes with responsibilities. In order to maintain healthy bear populations and reduce conflicts with bears, certain precautions should be taken. Whether it is keeping the garbage at your home secure, or maintaining a clean campsite, your behavior often dictates the bear's behavior. Learn more about living and camping in bear country on these pages so that you, and the bears, can live safely together.
Handling Conflicts
Bears are naturally shy animals and prefer to avoid people. Conflicts arise when they are attracted to human food or garbage or when we surprise them while out on the trail. Look at these web pages to find out what you can do to deal with problems with bears.
Handling Garbage and Keeping Bears Away
Community Partnerships
Safety in Bear Country
When you venture out in Alaska you are travelling in bear country. How you behave often dictates the outcome of an encounter with a bear. Even though encounters with bears are not common and aggressive bear encounters are rare, the more you know about bear safety the better off you are. Learn about safety in bear country on these pages. Get the facts and dispel the myths so that you can enjoy the outdoors with confidence and competence.
Videos
The Safety in Bear Country Society, in cooperation with the International Association of Bear Research and Management, has developed 3 excellent videos/DVD's about staying safe in bear country. Copies are available on loan from ADF&G Area Offices in Anchorage, Fairbanks and Juneau or you may search online to order copies.

Staying Safe in Bear Country
Working in Bear Country
Living in Bear Country

Polar Bears: A Guide to Safety
HEY BEARS! How YOU Can Stay Safe in Bear Country. This 19-minute video, produced by ADF&G with Wayne Hall-Stoutman Productions and Mirror Lake Middle School, teaches elementary-age students about basic bear safety including tips for avoiding bears, minimizing attractants around homes and camps and what to do if you see a bear.
Bear Spray Demonstration for Hunters, with Craig Boddington. This 60-second video demonstrates the proper use of bear spray.
Urban Bear Project
Anchorage Bears Story Map
Learn more about the lives of urban bears, and see Anchorage from a bear's perspective. This Story Map shows data from an ADF&G research project that tracked nine bears using GPS collars that included a video camera.
Related Articles
Facebook
Twitter
Google+
Reddit

Section Navigation
Species
Alaska Department of Fish and Game
P.O. Box 115526
1255 W. 8th Street
Juneau, AK 99811-5526
Office Locations