Alaska Department of Fish and Game
---
Facebook
Twitter
Google+
Reddit

Mariculture

Aquatic Farming Information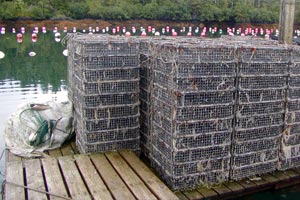 Aquatic Farmers and Permit Information
Annual Farming Production Summary
Seed Sources
Maps of Operation Locations
Wild Stock Geoduck Harvests from Aquatic Farm Sites
Currently, as stated in AS 16.40.105(5), the department cannot permit a subtidal aquatic farm site if it contains more than an insignificant population of wild stock. Holders of aquatic farm operation permits for subtidal geoduck farms are allowed to harvest insignificant amounts of wild stock geoducks from their farm sites under AS 16.40.100(b)(2). Operation permit holders must apply for an aquatic farm interim-use permit specific to each farm site, issued annually by Commercial Fisheries Entry Commission (CFEC), before they can harvest wild stock from their farm sites. Permit holders are required to report their harvest information to the department. As per AS 16.40.155, the department may release records regarding cumulative annual harvests of wild stocks at individual aquatic farm sites.
Details on the annual cumulative number of wild stock geoducks harvested on each permitted subtidal farm by year are available:
More details of subtidal aquatic farm requirements are available on the Mariculture permitting and reporting pages.
---
Adobe Acrobat PDF files require a free viewer available directly from Adobe.
Secondary Site Navigation
Aquatic Farming
Alaska Department of Fish and Game
P.O. Box 115526
1255 W. 8th Street
Juneau, AK 99811-5526
Office Locations