Welcome to the Joint Board of Fisheries and Game
Joint Board News
Upcoming Meetings
2018/2019 Proposal Book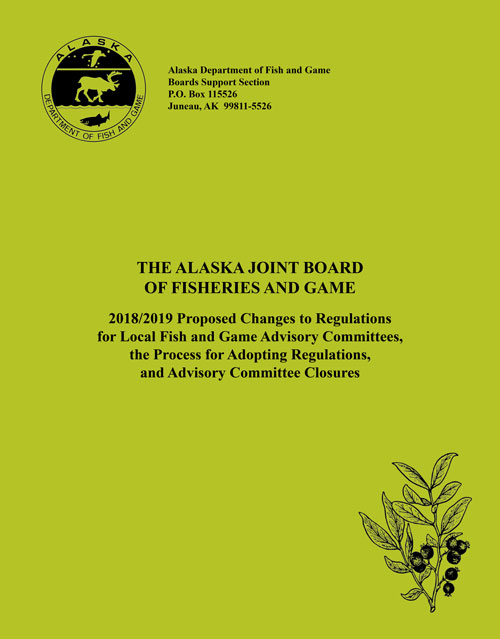 The Alaska Joint Board of Fisheries and Game 2018/2019 Proposal Book (PDF 587 kB) is now available.
Proposed changes to regulations concern local fish and game advisory committees, the process for adopting regulations, and advisory committee closures.
Proposals will be considered during the Joint Board Meeting, scheduled for March 21-25, 2019 in Anchorage.
Learn more about the proposal process.
Submit a Comment
The Joint Board invites you to share your comments. To help the board better understand your viewpoint, comments should include your name, place of residence, proposal numbers, and clear indication of support or opposition to each proposal. Please read our commenting guidelines and submit comments on the 2018/2019 proposed changes to regulations by Friday, March 7, 2019.
Board & Advisory Committee Calendar
About the Joint Board of Fisheries and Game
The Board of Fisheries and the Board of Game meet jointly as the Joint Board of Fisheries and Game to address issues common to both boards such as habitat concerns, regulations governing advisory committees, and for the commissioner nomination process. Meetings of the Joint Board are scheduled on an as-needed basis. Actions taken by the Joint Board require a majority of each of two boards.
The Joint Board of Fisheries and Game sets the regulations for advisory committee guidelines. These include the establishment of advisory committees, setting the number of seats by community if more than one community is represented on the committee, and setting the guidelines for uniform rules of operation. The composition of advisory committees can be changed by the Joint Board after it receives a proposal and meets to act on the proposal.
The Joint Board of Fisheries and Game authority is provided under Alaska Statute 16.05.315. The regulations the Joint Board has authority over are 5 AAC Chapter 96 which includes the local fish and game advisory committee system, and 5 AAC Chapter 99 dealing with subsistence uses.
Learn more about the proposal process.
Contact Us
Contact the Boards Support main office at (907) 465-4110, or see detailed online contact information.