Viewing Guides and Checklists

Checklists
Wings Over Alaska
Enjoy Alaska's birds and take your birding skills to a new level through this Alaska Department of Fish and Game certificate program. Wings Over Alaska will award a certificate based on the number of birds you see. Certification is awarded at four levels: 50, 125, 200, and 275 Alaska bird species. The certificate for the highest level will be signed by the Governor of Alaska. See the Wings Over Alaska page and download an application.
Local Bird Checklists
Prepare ahead of time for your birding adventure in Alaska and visit our round-up of local bird checklists from around the state.
Alaska Wildlife Checklist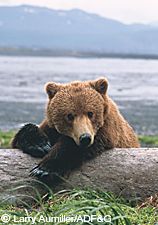 Eagles, whales, grizzly bears, and moose . . . Alaska abounds with wildlife on land and in the water.
How many species have you seen? Keep track with the Eyes on Wildlife: Alaska checklist. Earn certificates for spotting 25, 50, 75, or 100 different species. Here's how:
Use the Alaska wildlife checklist to check off wildlife you see.
You may record the specific species where we just listed a category. There is room for adding species not already listed.
All wildlife must be seen alive, wild and unrestrained (not in a zoo) in Alaska.
When you've reached 25, 50, 75, or 100 species, download your free certificate.