Alaska Department of Fish and Game
---
Secondary Site Navigation
Gene Conservation Laboratory

About Us
Our Mission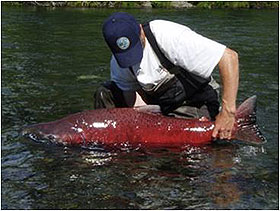 The mission of the Gene Conservation Laboratory is to apply genetic principles and tools to support the management of commercially important fish and shellfish species in Alaska based on the sustained yield principle.
Highlights
General Information
Techniques
More Research Projects
---
Adobe Acrobat PDF files require a free viewer available directly from Adobe. Need a hard copy of a publication? Contact Genetics Webmaster.