Alaska Department of Fish and Game
---
Most ADF&G website information and services will not be available on Sunday, October 11 as the State of Alaska will be doing planned maintenance in Juneau on that date between 5 am – 9 pm AKST. We apologize for any inconvenience this may cause.
Facebook
Twitter
Google+
Reddit

Marine Mammals Program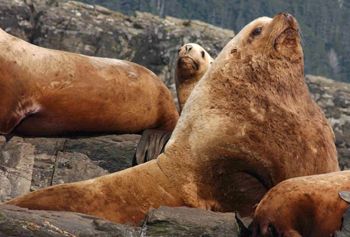 ADF&G maintains a strong presence in marine mammal conservation because of the great importance of these species to Alaska. Our program conducts numerous long-term, nationally and internationally recognized research projects, which also supplement and complement those undertaken by federal agencies and Alaska Native organizations. The majority of funding for our research is obtained from federal sources through grants submitted by marine mammal staff. The results of these projects have substantially increased our knowledge of the biology and ecology of Alaska's marine mammals, which has subsequently:
Improved the understanding of how marine mammals interact with commercial fisheries
Provided important information to Alaska Natives for their subsistence use of marine mammals
Been integrated with wildlife viewing programs that provide the public with opportunities to view and photograph marine mammals
Provided a credible, objective source of information for organizations concerned about the impacts of various human activities on marine mammals
Our marine mammal program works closely with the National Marine Fisheries Service and the U.S. Fish and Wildlife Service, the two federal agencies that assumed jurisdiction for marine mammal management in Alaska in 1972 with passage of the Marine Mammal Protection Act. In addition, our program works with Alaska Native marine mammal organizations to promote co-management of marine mammals.
Secondary Site Navigation
Marine Mammals Program
Alaska Department of Fish and Game
P.O. Box 115526
1255 W. 8th Street
Juneau, AK 99811-5526
Office Locations