Alaska's Game Species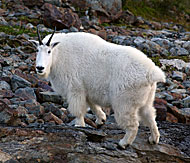 If marine mammals, wolf, and wolverine are considered, Alaska has over a dozen species of big game animals. In addition small game and waterfowl hunting opportunities abound in an area spread across 365,000,000 acres an area one-fifth the size of the entire United States. Big game densities are generally much lower than you are probably used to in more southern states. Many big game species here make long movements between seasonal ranges. The key to successful big game hunting in Alaska is in doing your homework to determine both the best areas and times to hunt the species you are seeking.
Select a species below for life history, location, and hunting information, including permit conditions specific to various hunting opportunities (hunts).