Alaska Department of Fish and Game
---

Kenai (RM 8.6) River

Fish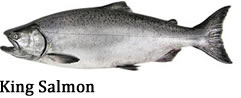 King salmon spend one year as fry in freshwater and anywhere from one to five years in the ocean before returning to spawn. Historically, four-year-ocean fish have dominated king salmon runs, accounting for approximately 40 to 60 percent of the returning king salmon. In recent years, the presence of four-year-ocean fish has declined and presence of two-year-ocean fish has grown from about 10 to 15 percent of returning king salmon to 20 to 30 percent.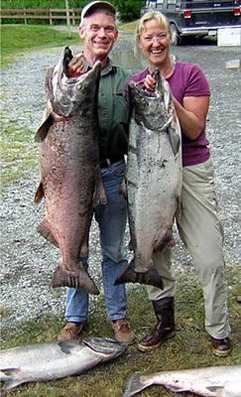 The Fish
The Kenai River supports major runs of king, sockeye, coho and pink salmon, but is best known for its king salmon. Kenai king salmon are highly prized among anglers. Relative to other king salmon stocks, Kenai king salmon are large, often weighing more than 40 pounds. The Kenai king salmon also holds the present state record for the largest sport-caught king salmon—weighing in at 97 pounds. King salmon runs begin in mid-May and overlap with sockeye salmon runs, which begin to arrive in late May. Coho and pink salmon generally do not arrive until mid to late July when king salmon runs are ending.
At the Kenai River Mile 8.6 sonar site ADF&G monitors the river's early and late king salmon runs. The dividing line between early and late king salmon runs is roughly July 1. Early-run king salmon spawn primarily in larger tributaries of the Kenai River, such as the Funny and Killey rivers, while late-run king salmon spawn mostly within the Kenai mainstem. An estimated 20 to 40 percent of late run king salmon spawn between River Mile 10 and the Soldotna Bridge at River Mile 21. Many more king salmon arrive in the late run than the early run. Based on historical estimate data, approximately 16,000 early run and 30,000 to 60,000 late run king salmon return annually.
Kenai king salmon do not travel far to reach spawning grounds compared with many other stocks of king salmon and the number of miles they travel per day is sporadic. They also have relatively short life spans once they enter the river, living only a little over one month after they have left the ocean.
Fishing
Kenai king salmon support one of the most heavily fished and intensively managed recreational fisheries in Alaska. Early run king salmon are caught primarily by sport anglers and late run king salmon are caught by commercial, sport, subsistence and personal use fisheries. For early run king salmon the Sustainable Escapement Goal is 4,000 to 9,000 and the Optimal Escapement Goal is 5,300 to 9,000. For late run king salmon the Sustainable Escapement Goal is 17,800 to 35,700.
Facebook
Twitter
Google+
Reddit

Section Navigation
Fisheries Research
Alaska Department of Fish and Game
P.O. Box 115526
1255 W. 8th Street
Juneau, AK 99811-5526
Office Locations