Alaska Department of Fish and Game
---

Anchor River

Fish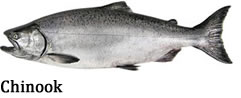 Anchor River Chinook rear in freshwater for one year before they smolt and spend one to four years in the ocean. In most years, the greatest number of returning Chinook are three-year ocean fish. The Sustainable Escapement Goal for Anchor River Chinook salmon is 3,800 to 10,000 spawning fish.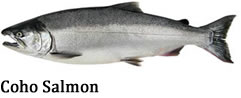 The Anchor River coho run arrives late in the fishing season. At the end of July, when almost all Chinook have passed, the department coordinates with the U.S. Fish and Wildlife Service to continue weir operations monitoring the subsequent coho run.
The Fish
The Anchor River supports the largest freshwater sport fishery in the Lower Cook Inlet management area. Steelhead, Dolly Varden and five species of salmon spawn in the river, and sport anglers target primarily Chinook, coho, steelhead and Doll Varden.
The Chinook run begins in May, peaks in June and continues into late July. The sonar operates early in the Chinook run when the water is too high to use a weir (see The Site and River). In the Anchor River, the sonar can tell us how many fish are swimming by, but not how many of those fish are Chinook. Fortunately, other salmon do not arrive until after water levels have dropped and we have replaced the sonar with a weir.
When sonar is operating all upstream and downstream migrating fish are counted as Chinook. During this period Steelhead are also present, but in much smaller numbers than Chinook. Also, steelhead migrate downstream rather than upstream in the spring. Consequently, the impact of steelhead on Chinook salmon counts is very minor, resulting in a slightly more conservative estimate of Chinook escapement (see Site Sonar Technology).
Facebook
Twitter
Google+
Reddit

Section Navigation
Fisheries Research
Alaska Department of Fish and Game
P.O. Box 115526
1255 W. 8th Street
Juneau, AK 99811-5526
Office Locations