Alaska Department of Fish and Game
---
Secondary Site Navigation
Prince William Sound Management Area

Fishing Information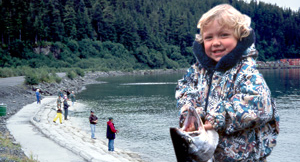 The Western Prince William Sound area includes the community of Whittier and the villages of Chenega and Tatitlek. The Alaska Marine Highway ferry system regularly serves Whittier, and will "whistle stop" at Chenega and Tatitlek.
The Sound is an incredibly rich resource for native populations all fi ve species of Pacifi c salmon, as well as halibut, rockfi sh, lingcod, sharks, steelhead trout, rainbow trout, cutthroat trout, and Dolly Varden char.
Salmon are also raised in state and private nonprofi t hatcheries in the Sound and are available for sport anglers. Pink and silver salmon are the most abundant salmon species, providing most of the sport fi shing opportunities in Prince William Sound.
The following links lead to regulation summaries of Alaska sport and personal use fishing regulations published by the Division of Sport Fish as a service to anglers. They are not intended to be a complete digest of all fishing regulations.
Regulations may be changed by the Alaska Board of Fisheries during its regular meetings, by emergency regulation, or by emergency order at any time. Any changes to the regulations are made available through the emergency order link below.
Prince William Sound Emergency Orders
Prince William Sound Regulations