Interior Area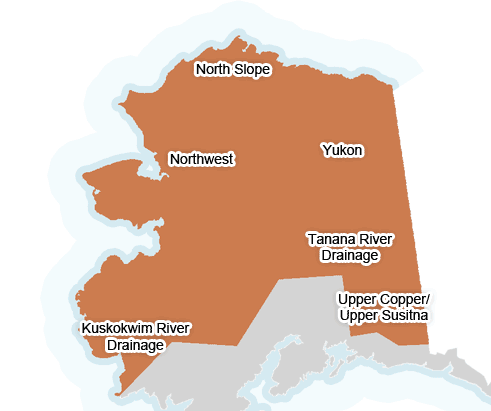 Annual Regulations Cover Photo Contest
The Interior region is the largest region of the state encompasses 78% (443,153 mi2 or 1,147,760 km2) of Alaska's 570,376 square miles (1,477,267 km2), and includes the state's largest river systems (Yukon, Kuskokwim, Colville, and Noatak rivers). The area encompassed is the size of the next two largest U. S. states, Texas and California, combined.
Region III includes 33,904 miles (54,563 km) of coastline: 20% of Alaska's total. Countless lakes dot the Region III landscape. In the flat lowlands, it is often difficult to determine where one lake ends and another begins. Lakes freeze and remain frozen throughout the winter season. Ice fishing is a popular pastime.
Rivers
The state's largest river systems and its ten longest rivers are located in Region III. These rivers wind their way over Arctic tundra and through boreal forest. They roar through canyons and meander across flats. They range in turbidity from the crystal water of spring-fed systems to the blue/gray silt-laden waters of glacial runoff. Side sloughs are the color of tea, stained by tannins. Many young rivers run murky as they cut their way through the earth in search of bedrock. Most rivers freeze during winter, although open leads can develop at any time. Ice fishing, including set lining for burbot, keeps anglers occupied during the winter months.
Fish
Region III is home to 37 freshwater and brackishwater fish species. These fish are long-lived and slow-growing due to cold water temperatures. Sport anglers target only a few of these fish species. The crowning jewel of Region III is the Arctic grayling, a favorite of fly fishers. Though all five salmon species occur in Region III, Chinook (king), Coho (silver), and sockeye (red) salmon are the most sought after by Interior anglers. Lake trout, sheefish, Dolly Varden and Arctic char are all reasons that hard-core anglers trek to Northern and Western Alaska each year. Burbot is the premier bottom fish, the only freshwater member of the cod family, is also known as "poor man's lobster." Northern pike is a valued fish resource in the interior of Alaska; though considered an invasive species in southern Alaska. Although rainbow trout are not native north of the Alaska Range, the state's fish stocking efforts have created land-locked rainbow trout fisheries in over 100 lakes in Region III.