Alaska Department of Fish and Game
---
Lower Cook Inlet Management Area

Overview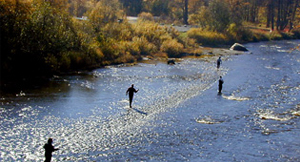 The Lower Cook Inlet Management Area encompasses the freshwater drainages on the west side of the Kenai Peninsula south of the Kasilof River drainage to Gore Point, the freshwater drainages on the west side of Cook Inlet from the south end of Chisik Island to Cape Douglas and the marine waters of Cook Inlet bounded by these landmarks. Summer recreational fishing opportunities range from bank fishing in small clear water streams, to saltwater trolling and jigging for salmon and bottomfish, and clam digging. The hardy angler may troll for "feeder" kings in the winter months as well.
King and silver salmon, steelhead trout and Dolly Varden are sought in the clear water streams that cross under the highway on the drive to "land's end" on the Homer Spit. Off the mouths of these streams, anglers troll for salmon and further from shore seek halibut, rockfish and cod. Razor clams are found in the beaches along the highway from the mouth of the Kasilof River south to Homer. Trophy King SalmonThe Homer Spit is the jumping off point for boating expeditions into Kachemak Bay for hardshell clams and freshwater fishing in the small tributaries across Kachemak Bay and trips for halibut and bottomfish further to the south and west. Charter flights are offered to access salmon fishing for silver, pink and chum salmon in small streams on the southern tip of the Peninsula and the west side of Cook Inlet. Stocked king salmon are available to anglers that cross Kachemak Bay to Halibut Cove Lagoon. Ferry service will transport anglers to the stocked king salmon fishery in Seldovia. For the landlocked angler, stocked king and silver salmon return to the popular Fishin' Hole located on the Homer Spit. Pink and red salmon, paid for by taxes on commercial fishing and targeted by commercial fishers, are also available for harvest by sport anglers in China Poot and Tutka bays.
The Lower Cook Inlet area is a popular destination for recreational fishers and fishing regulations are in place to assure enough opportunity to go around. Be sure to familiarize yourself with the regulations and have the proper permits before you head out to enjoy the area's fishery resources.
Facebook
Twitter
Google+
Reddit

Section Navigation
Sport Fishing
Alaska Department of Fish and Game
P.O. Box 115526
1255 W. 8th Street
Juneau, AK 99811-5526
Office Locations