Alaska Department of Fish and Game
---
Kodiak Management Area

Overview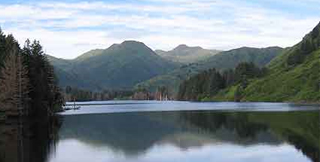 The Kodiak Management Area (KMA) for sport fisheries includes all waters of the Kodiak Island Archipelago, the Alaska Peninsula south of a line from Cape Douglas to Cape Menshikoff, and the Aleutian Islands. This management area is subdivided into two regulatory regions: the Kodiak Regulatory Area and the Alaska Peninsula/Aleutian Islands Regulatory Area. Most sport fisheries in the KMA are remote and, in some cases, can be relatively difficult to access with the exception of the road accessible streams located in Kodiak, Adak, Cold Bay, and Dutch Harbor. A coastal climate with high precipitation and relatively cool temperatures characterize much of the KMA.
Principal public land managers in the KMA include the U.S. Fish and Wildlife Service, National Park Service, U.S. Forest Service, and the State of Alaska. Additionally, in some areas relatively large land tracts surrounding popular sport fishing destinations are held in native corporation ownership. With respective populations of 11,000 and 4,300 the communities of Kodiak and Dutch Harbor/Unalaska are the two largest communities in the KMA, although the area also includes approximately 20 villages with year-round inhabitants.
Sport fisheries management and research functions for the KMA are based in the Kodiak area office. The Division of Sport Fish staff stationed in Kodiak include Area Management Biologist Donn Tracy, Fisheries Biologist Tyler Polum, and Fish and Wildlife Program Technician Tonya Wood. In addition to fisheries management responsibilities, the area and assistant area biologist oversee all fisheries research, facilitate public access improvement projects, and represent ADF&G's interest in local access issues . The fisheries biologist assists with these responsibilities and also acts as crew leader for research projects and provides supervision for supporting permanent seasonal technicians. Support is provided to KMA area staff from Sport Fish Division Region II Headquarters management and research biologists, administrative personnel and the division's Research and Technical Services (RTS) staff.
Facebook
Twitter
Google+
Reddit

Section Navigation
Sport Fishing
Alaska Department of Fish and Game
P.O. Box 115526
1255 W. 8th Street
Juneau, AK 99811-5526
Office Locations