Alaska Department of Fish and Game
---
Most of the ADF&G website will be unavailable on March 23, 2017 from 5 p.m. until 8 p.m. (AKDT) due to scheduled maintenance.
North Gulf Coast (Seward) Management Area

Overview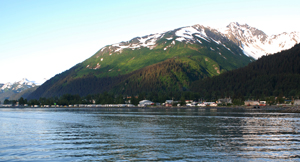 The North Gulf Coast (Seward) management area consists of all fresh and salt waters between Gore Point and Cape Fairfield. The City of Seward is the only community in the management area, and tourism, including a growing sport fish charter industry, is vital to its economy. Sport fisheries can be accessed by road, rail, air, or boat. Except for some road-accessible streams, lakes, and Seward beaches, most sport fisheries in the Resurrection Bay Management Area are relatively remote and require a boat or plane to access. Principal land managers include private individuals, the City of Seward, U.S. National Park Service, U.S. Forest Service, native corporations, and the State of Alaska.
The Resurrection Bay area is home to one of the largest marine coho salmon fisheries in the Pacific Northwest. This popular fishery is highlighted during the August Seward Silver Salmon Derby sponsored by the Seward Chamber of Commerce. In 2004, over 107,000 coho salmon were harvested. Sport anglers target hatchery king salmon as well as wild pink and chum salmon and Dolly Varden char. Resurrection Bay is a popular jumping off point to fish for bottomfish such as halibut, rockfish, and lingcod. In 2004, more than 109,000 bottomfish species were harvested in Resurrection Bay and nearby marine waters.
Facebook
Twitter
Google+
Reddit

Section Navigation
Sport Fishing
Alaska Department of Fish and Game
P.O. Box 115526
1255 W. 8th Street
Juneau, AK 99811-5526
Office Locations