Alaska Department of Fish and Game
---
Secondary Site Navigation
Kodiak Management Area

Fishing Information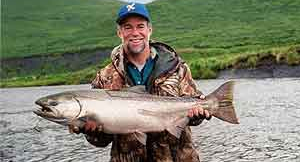 About 11,000 people live along the Kodiak Road System, and 14,000 visitors arrive every year. Available services include 70 charter operators, 33 remote lodges, 6 air taxis, 12 state and federal public use cabins, 10 private remote cabins for rent, 5 hotels and motels, 30 bed and breakfasts, 4 sporting good stores, as well as all the other amenities usually found in a community this size.
Kodiak offers excellent fishing for five species of Pacific salmon (king, red, silver, dog, and pink) halibut, rockfish, lingcod, Dolly Varden, and both steelhead and rainbow trout.
The following links lead to regulation summaries of Alaska sport and personal use fishing regulations published by the Division of Sport Fish as a service to anglers. They are not intended to be a complete digest of all fishing regulations.
Regulations may be changed by the Alaska Board of Fisheries during its regular meetings, by emergency regulation, or by emergency order at any time. Any changes to the regulations are made available through the emergency order link below.