Alaska Department of Fish and Game
---
Most of the ADF&G website will be unavailable on March 23, 2017 from 5 p.m. until 8 p.m. (AKDT) due to scheduled maintenance.
Kodiak Management Area

Fishing Information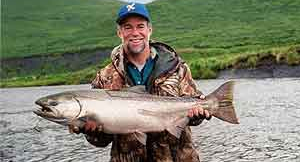 About 11,000 people live along the Kodiak Road System, and 14,000 visitors arrive every year. Available services include 70 charter operators, 33 remote lodges, 6 air taxis, 12 state and federal public use cabins, 10 private remote cabins for rent, 5 hotels and motels, 30 bed and breakfasts, 4 sporting good stores, as well as all the other amenities usually found in a community this size.
Kodiak offers excellent fishing for five species of Pacific salmon (king, red, silver, dog, and pink) halibut, rockfish, lingcod, Dolly Varden, and both steelhead and rainbow trout.
Facebook
Twitter
Google+
Reddit

Section Navigation
Sport Fishing
Alaska Department of Fish and Game
P.O. Box 115526
1255 W. 8th Street
Juneau, AK 99811-5526
Office Locations