Prince of Wales Island Wildlife Viewing

Twelve Mile Estuary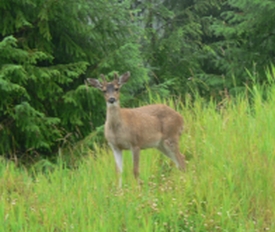 Waterfowl and mammals visit the Twelve Mile Estuary throughout the year. Look for Sitka black-tailed deer and black bears at the water's edge or near the road. Sandhill cranes come to the area in the spring. Other migratory birds stop here in the spring and fall to rest and feed before continuing on.
Habitat
Estuaries are areas where fresh and salt water mix. Pooling salmon, estuary plants and small organisms in estuary tidal flats are all important food sources for birds and mammals.
Species
Black Bear
Eagles
Sandhill Crane
Sitka black-tailed deer
Hints
Visit the estuary in the early morning or late evening hours, when wildlife activity is highest.
Facilities
Hiking Trails
Wheelchair Accessible
Notes
The USDA Forest Service is planning to construct a wheelchair accessible cabin at the Twelve Mile Estuary, to be open in 2007. Check with the Craig Ranger District for details.
Plan to spend at least: 2 - 4 hours +
Best Months
█ Best Month
Jan

uary

Feb

ruary

Mar

ch

Best Month

Apr

il

Best Month

May

Best Month

Jun

e

Best Month

Jul

y

Best Month

Aug

ust

Best Month

Sep

tember

Oct

ober

Nov

ember

Dec

ember
Directions
Twelve Mile Estuary is on FH 21, which heads east from FH 13 (the road to Hydaburg) just south of Cable Creek.
Contact
USDA Forest Service, Craig Ranger District - (907) 826-3271 or http://www.fs.fed.us/r10/tongass/districts/pow/index.shtml
Additional Information