Prince of Wales Island Wildlife Viewing

Sandy Beach Road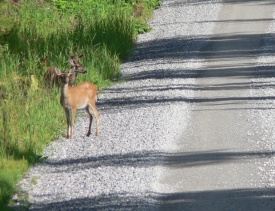 Sandy Beach Road hugs the eastern shoreline of Prince of Wales Island. Stretches of the road overlook Clarence Strait, a rich feeding area that attracts humpback and killer whales, harbor seals, and Steller sea lions. Watch for Sitka black-tailed deer year-round, and trumpeter swans at the Ratz Harbor estuary during fall migrations. The Sandy Beach Recreation Area is a great place to look for great blue herons, bald eagles and harbor seals.
Habitat
There is good tidepooling at the Sandy Beach Recreation Area, with a chance to see live sand dollars at low tide.
Species
Black Bear
Eagles
Great Blue Heron
Harbor Seal
Humpback Whale
Killer Whale
Sitka black-tailed deer
Steller's Sea Lion
Swans
Hints
Roadside pullouts offer views from high above Clarence Strait, and also from the water's edge. Make many stops for the best chance to spot marine life.
Facilities
Notes
Sandy Beach Road is a well-maintained, but unpaved, road. Drive carefully and maintain a safe speed at all times.
Plan to spend at least: 2 - 4 hours
Best Months
█ Best Month
Jan

uary

Feb

ruary

Mar

ch

Apr

il

Best Month

May

Best Month

Jun

e

Best Month

Jul

y

Best Month

Aug

ust

Best Month

Sep

tember

Oct

ober

Nov

ember

Dec

ember
Directions
Sandy Beach Road connects the communities of Coffman Cove and Thorne Bay on the east side of Prince of Wales Island.
Contact
Prince of Wales Island Chamber of Commerce - (907) 755-2626 or http://www.princeofwalescoc.org USDA Forest Service, Thorne Bay Ranger District - (907) 828-3304 or http://www.fs.fed.us/r10/tongass/districts/pow/index.shtml
Additional Information