Haines — The Northwest Passage to Southeast Alaska

Wildlife Viewing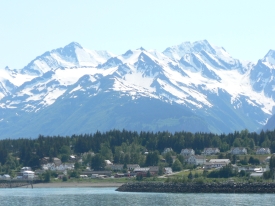 Haines is known the world over as the "Valley of the Eagles," thanks to the winter concentration of bald eagles at the Chilkat River near town. Haines is also an intersection between the interior of North America and the waters of the Inside Passage. Wildlife uses the Chilkat River as a "highway" between the interior and the coast, because the Chilkat slices through the coastal mountains that separate the two regions.

This major river corridor combines with a diversity of habitats like marshes, tidal flats, alpine, subalpine forest, and marine to attract a rich diversity of wildlife to the area. Bears fish for salmon in the rivers near town. Moose wander the forests and browse along the riverbanks. Trumpeter swans drift in ponds, and mountain goats patrol ridgelines above town.

We've included some of our favorite Haines wildlife watching sites to share with you. Grab a camera, bring your sense of adventure and settle in for a few days to check out these and other spots in Haines, the Northwest Passage to Southeast Alaska.

For information on tours and lodging, consult the Haines Convention and Visitors Bureau. Visit www.haines.ak.us or call 907-766-2234. In Haines, stop by the visitor center downtown at Second Avenue and Willard Street.

Haines Wildlife Viewing Sites