Prince of Wales Island Wildlife Viewing

Cable Creek Fishpass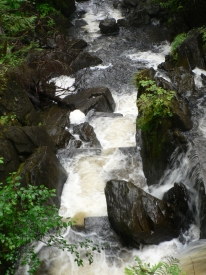 Watch salmon spawn at the Cable Creek Fishpass between late July and the end of August. The wheelchair accessible viewing platform at the end of a short boardwalk is a good place to stand and look for wildlife. Black bears gorge themselves on protein-rich salmon, an essential part of their yearly diet. Scan for river otters chasing the salmon upstream, and look upwards for a bald eagle.
Species
Black Bear
Eagles
River Otter
Hints
Hike the Trocadero Trail near Cable Creek for additional chances to see salmon and wildlife.
Facilities
Hiking Trails
Interpretive Signs
Wheelchair Accessible
Notes
The viewing platform at Cable Creek is wheelchair accessible. The nearby Trocadero Trail is not.
Plan to spend at least: 2 - 4 hours
Best Months
█ Best Month
Jan

uary

Feb

ruary

Mar

ch

Apr

il

May
Jun

e

Best Month

Jul

y

Best Month

Aug

ust

Sep

tember

Oct

ober

Nov

ember

Dec

ember
Directions
Cable Creek Fishpass is on FH 13, about nine miles south of the junction with FH 6.
Contact
USDA Forest Service, Craig Ranger District - (907) 828-3271 or http://www.fs.fed.us/r10/tongass/districts/pow/index.shtml Prince of Wales Chamber of Commerce - (907) 755-2626 or http://www.princeofwalescoc.org/
Additional Information