Prince of Wales Island Wildlife Viewing

Sarkar Lakes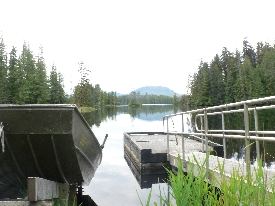 Watch for wildlife from land or a canoe at the Sarkar Lakes area. The Sarkar Rapids burst with sockeye salmon each July, attracting black bears and harbor seals. The bridge on FH 43 offers good views. In the spring and early summer, Sitka black-tailed deer and black bears feed on lakeside plants. Bald eagles are seen throughout the year. The Sarkar Lakes Canoe Route includes six lakes connected by short boardwalk portages. A developed boat launch and parking area provides easy access to the canoe route, and rental companies will deliver boats and gear upon request. Check with the Chamber of Commerce for details.
Habitat
Lakeside plants emerge ahead of other plants in the spring, making them an important seasonal food source for bears and deer.
Species
Black Bear
Eagles
Harbor Seal
Sitka black-tailed deer
Sockeye (Red) Salmon
Hints
Paddling a canoe tends to be quieter than hiking, which improves your chances of spotting wildlife at Sarkar Lakes.
Facilities
Notes
The USDA Forest Service maintains a tent platform and cabin at the lakes for those interested in a multi-day adventure.
Plan to spend at least: Half - full day +
Best Months
█ Best Month
Jan

uary

Feb

ruary

Mar

ch

Apr

il

Best Month

May

Best Month

Jun

e

Best Month

Jul

y

Best Month

Aug

ust

Best Month

Sep

tember

Oct

ober

Nov

ember

Dec

ember
Directions
The parking area and boat launch for the Sarkar Lakes is along FH 43 just north of Naukati.
Contact
Prince of Wales Chamber of Commerce - (907) 755-2626 or http://www.princeofwalescoc.org USDA Forest Service, Thorne Bay Ranger District - (907) 828-3304 or http://www.fs.fed.us/r10/tongass/districts/pow/index.shtml
Additional Information