Prince of Wales Island Wildlife Viewing

Memorial Beach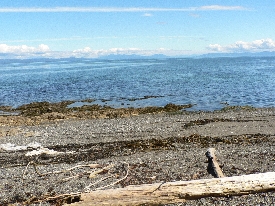 Memorial Beach is on the shores of Sumner Strait, a narrow waterway used by marine mammals and sea birds to reach the rich summer feeding areas in Clarence Strait from the open waters of the Pacific Ocean. Look for humpback whales and killer whales out in the strait, and harbor seals and Steller sea lions closer to shore. Pelagic cormorants, rhinoceros auklets, buffleheads, storm petrels and pigeon guillemots may be seen in the summer. Larger rafts of sea birds are often visible in the fall and winter. Look for Sitka black-tailed deer and black bears along the shore and on the primitive ¼-mile trail that leads from the parking area to the beach.
Habitat
Sitka black-tailed deer and black bears use the beach as a "highway," because it is easier than traveling through dense forest habitat.
Species
Bufflehead
Harbor Seal
Humpback Whale
Killer Whale
Pelagic Cormorant
Pigeon Guillemot
Rhinoceros Auklet
Sitka black-tailed deer
Steller's Sea Lion
Hints
Use your ears as well as your eyes when searching for marine mammals. You may hear a blow or splash before you can spot a whale or sea lion.
Facilities
Hiking Trails
Picnic Facilities
Restrooms
Notes
Memorial Beach is an approximately four hour drive each way from Craig or Thorne Bay. Plan to spend the night in one of the northern communities on the island. Drive carefully on all the roads of Prince of Wales Island, and be especially cautious on the narrower and less developed roads on the northern end of the island.
Plan to spend at least: Half - full day +
Best Months
█ Best Month
Jan

uary

Feb

ruary

Mar

ch

Apr

il

Best Month

May

Best Month

Jun

e

Best Month

Jul

y

Best Month

Aug

ust

Best Month

Sep

tember

Oct

ober

Nov

ember

Dec

ember
Directions
Memorial Beach is on Forest Service Road 20860 at the north end of Prince of Wales.
Contact
Prince of Wales Chamber of Commerce - (907) 755-2626 or http://www.princeofwalescoc.org USDA Forest Service, Thorne Bay Ranger District - (907) 828-3304 or http://www.fs.fed.us/r10/tongass/districts/pow/index.shtml
Additional Information