Northern Kenai Peninsula Management Area

Fishing Information
Crooked Creek Chinook Salmon Escapement Study
The glacial Kasilof River emerges from Tustumena Lake and flows approximately 30 kilometers to Cook Inlet. Crooked Creek, a tannin-stained stream, flows into the Kasilof River approximately 10 kilometers upstream of the mouth of the Kasilof. Four species of Pacific salmon - Chinook (Oncorhynchus tshawytscha); coho (O. kisutch); sockeye (O. nerka); and pink (O. gorbuscha) are present in the drainage, as well as anadromous and resident rainbow/steelhead trout (O. mykiss) and anadromous and resident Dolly Varden (Salvelinus malma) and resident lake trout (S. namaycush). While sport fisheries in the Kasilof River exist for all species listed, most of the effort is directed at early-run Chinook salmon returning to Crooked Creek and late-run Chinook salmon returning to the mainstream Kasilof River.
Crooked Creek Chinook Salmon Enhancement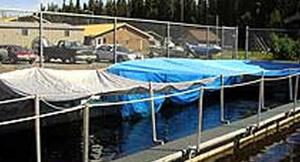 In 1999, the Alaska Department of Fish and Game (ADF&G) Division of Sport Fish resumed Chinook salmon escapement monitoring at the Crooked Creek hatchery facility. The current management plan, adopted in 2001, directs ADF&G to achieve an sustainable escapement goal (SEG) range at the Crooked Creek weir of 650-1700 age-.2+ naturally produced adult Chinook salmon during the early-run (January 1-June 30).
Kasilof River Sport Fishery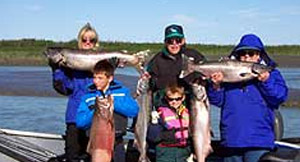 Over the years the Crooked Creek Chinook salmon brood stock has been used at a number of different sites to create or enhance fisheries. Presently, this stock is used to enhance Crooked Creek itself as well as two release sites in Resurrection Bay. Enhancement of Crooked Creek supports a viable and increasing sport fishery in the Kasilof River with harvest estimates showing an increase from 251 fish in 1978 to 4,234 fish in 2003. The Kasilof River early-run sport fishery occurs primarily from its confluence with Crooked Creek to its terminus at Cook Inlet, from approximately mid-May through June. Crooked Creek itself is closed to fishing for Chinook salmon. Initially, this was a shore-based, road-accessible fishery with high levels of participation, but in recent years this fishery has expanded to the use of drift boats.