Alaska Department of Fish and Game
---
Secondary Site Navigation
Lower Cook Inlet Management Area

Fishing Information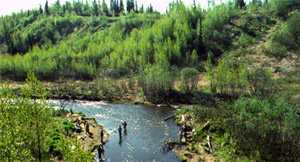 The streams of the Central and Lower Kenai Peninsula are crossed by the Sterling Highway, which begins 90 miles south of Anchorage at its junction with the Seward Highway, and travels 142.5 miles west and south to the Kachemak Bay community of Homer. There are many services available along the Sterling Highway — motels, bed & breakfasts, restaurants, private and public camping, boat launches, and parking areas.
This area is a very popular sport fishing area. The creeks and rivers support runs of king, silver, red, and pink salmon; both freshwater and sea-run Dolly Varden char; and both freshwater rainbow trout and sea-run steelhead trout.
Marine waters provide additional fishing opportunities for king and silver salmon as well as halibut.
The following links lead to regulation summaries of Alaska sport and personal use fishing regulations published by the Division of Sport Fish as a service to anglers. They are not intended to be a complete digest of all fishing regulations.
Regulations may be changed by the Alaska Board of Fisheries during its regular meetings, by emergency regulation, or by emergency order at any time. Any changes to the regulations are made available through the emergency order link below.
Lower Cook Inlet Emergency Orders
Lower Cook Inlet Regulations