Alaska Department of Fish and Game
---
Lower Cook Inlet Management Area

Fishing Research
Anchor River Chinook Salmon Assessment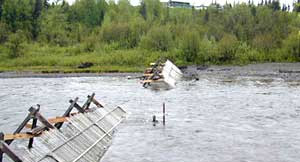 The Anchor River, located on the southern portion of the Kenai Peninsula is thought to support the largest native Chinook salmon return in the Lower Cook Inlet Management Area. This road accessible recreational fishery is open to Chinook salmon fishing from saltwater to approximately two miles upstream during four 3-day weekends (Saturday, Sunday, and Monday) beginning with the Memorial Day weekend.
Deep Creek Coho Salmon Assessment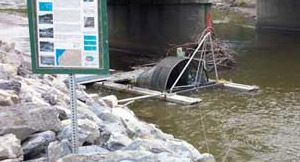 From 1997 through 2002, coho salmon were counted at a weir located upstream of the fishery on Deep Creek. In addition, coho salmon smolt migrating from the river to the sea were captured in a rotary smolt trap, marked by removing the adipose fin and equipped with a coded wire tag. Coded wire tags are small pieces of stainless steel wire that are injected into the snouts of the coho salmon smolt. When the coho salmon return to Deep Creek they were inspected at the weir for an adipose fin.
Kachemak Bay Hardshell Clam Research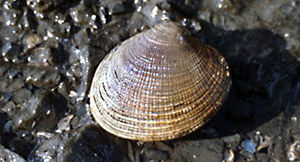 Littleneck clam abundance has been estimated for some bays on the south side of Kachemak Bay. Abundance is estimated by expanding the average number of clams dug in ½ meter2 sample plots distributed over a beach to the total beach in the surrounding area. Densities of legal-sized littleneck clam vary greatly along the southern bay from none to 100 per m2 . Typical densities vary from five to 10 legal-sized littleneck ( 1 ½ inches across their longest axis) clams per m2.
Ninilchik River and Lower Kenai Chinook Salmon Stocking
The Ninilchik River is one of three streams on the Lower Kenai Peninsula that supports a road accessible recreational fishery for Chinook salmon. Historic information indicated that Ninilchik River supported a relatively small return of Chinook salmon that was thought to number approximately 1,500 fish. In recognition of the adverse impact increasing harvest could have on the Ninilchik River Chinook salmon stock and to increase recreational fishing opportunity, Sport Fish Division began stocking Chinook salmon there in 1988 from fish spawned artificially at the Ninilchik River weir in 1987.
Lower Cook Inlet Razor Clam Research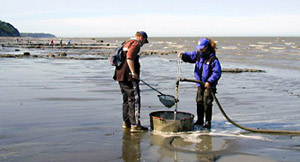 The largest razor clam fishery in Alaska occurs on the eastern beaches of Cook Inlet between Anchor Point and the Kasilof River. Population monitoring is ongoing since 1965. The harvest has varied between approximately 625,000 and 1.3 million clams without long-term trends upward or downward since 1973. Use patterns have changed dramatically, likely due to changes in abundance of clams among beaches and to the changes in availability of large clams at Ninilchik. Diggers focused their efforts at Clam Gulch until the 1980's.
Central Cook Inlet chinook salmon coded wire tag recovery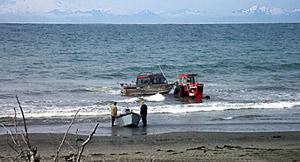 Cook Inlet supports substantial numbers of early-run Chinook salmon that return to natal spawning rivers in Cook Inlet from mid-May to July. The most noteworthy include; the Anchor, Deep Creek and Ninilchik rivers of Lower Cook Inlet, the Kasilof, and Kenai rivers of Upper Cook Inlet, and the network of clearwater tributaries of the glacial Susitna River in Northern Cook Inlet.
Facebook
Twitter
Google+
Reddit

Section Navigation
Sport Fishing
Alaska Department of Fish and Game
P.O. Box 115526
1255 W. 8th Street
Juneau, AK 99811-5526
Office Locations