Kodiak Management Area

Fishing Management - Alaska Peninsula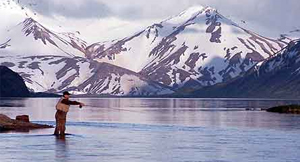 Alaska Peninsula and the Aleutian Island chain cover a vast area with numerous rivers and lakes, many which are unnamed. The area is remote, expensive to get there, weather can be extreme and the beauty, wildlife and fishing are spectacular. All five species of Pacific salmon return to some of systems on the Peninsula as do steelhead, wild rainbow trout, Dolly Varden, grayling and artic char may also be found. Access to these areas is expensive, and few services are generally available. Many anglers wishing to experience fishing in this area usually contact a guide service.
The Alaska Department of Fish and Game operates weirs on six rivers (Sandy, Ilnik, Chignik, Nelson/Sapsuk, Bear and Orskinie rivers) within in the Alaska Peninsula. The purpose of a weir is to identify and enumerate species of anadromous fish during their upstream migration and the seaward migration for Dolly Varden and steelhead. Weirs are just one of the tools the department utilizes to monitor escapement in order to manage the commercial, sport and subsistence fisheries. You can search the salmon escapement database for these rivers.
Southwest Alaska is a land of extreme climatic conditions. The Aleutians and Peninsula are open to the storms of the Bering Sea and the Gulf of Alaska yet block the rest of the region from the moderating maritime effects. The area is prone to winds and long drawn out periods of rain. Temperatures are cool, general in the 40's to 70's in the summers and painfully cold in the winter. Ice breaks up in May and forms again in October. April and June are the sunniest months, but any time of the year, be sure to bring the best rain gear you can find. The fall season is the wettest time of the year.
In early spring wild rainbow trout, steelhead, Dolly Varden and artic char can be found. Chinook salmon run early June to the end of July with an average size of 15 to 30 pounds, however, on some rivers they can average between 30 to 50 pounds. Sockeye salmon start returning to rivers in early June through end of July, and on Bear River through the month of September. Chum and pink salmon run the months of July and August. Lastly coho salmon return mid August into October with average size of 14 to 20 pounds.
Remote opportunities for freshwater king salmon fishing along the Alaska Peninsula are available in a number of locations, including the Chignik River on the Gulf of Alaska side and also in several streams draining into Bristol Bay between the villages of Port Heiden and Nelson Lagoon. The Nelson, Sandy, Cinder, Bear and Meshik rivers all support relatively small returns of king salmon.
Little is known about the abundance and location of rainbow trout and Steelhead populations in the Aleutians or in streams along the Alaska Peninsula draining into the Gulf of Alaska. These populations are some of the most remote and less fished.