Tanana River Management Area

ADF&G Public Use Cabins
OVERVIEW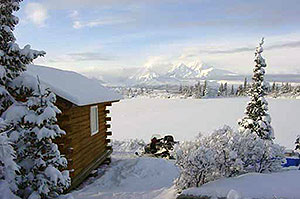 The Division of Sport Fish manages six recreational, public-use cabins in the Tanana River Drainage. These cabins are located on picturesque fishing lakes. Five of the cabins are located on stocked lakes and one on a remote wild lake. All cabins are accessible year-round by a variety of means although travel can be difficult at times depending on the conditions. George Lake Cabin may be completely inaccessible during freeze-up and break-up.
The cabins have bunk space to accommodate four to six adults and are equipped with a woodstove, a table, chairs or benches, and a nearby outhouse. All other items including firewood (17" maximum length), paper products, cooking/eating equipment, lanterns and sleeping pads, should be brought in by the user. Please follow "Leave No Trace" principles and pack out what you pack in, including all garbage. Pets are allowed but should always be under your control, and you are responsible for cleaning up pet waste.
These cabins are available free of charge by advance reservation only. Reservations must be made by phone or in person during normal office hours at the ADF&G office in Fairbanks (907-459-7228) or Delta Junction (907-895-4632). Please be aware that leaving a message on a voicemail will not guarantee your reservation. Reservations may be made up to six months in advance, for stays of up to five consecutive nights. Users will receive a reservation confirmation certificate and trail map by email and should carry a copy of their cabin permit with them on their stay.
These cabins have become very popular, and reservations are in high demand. If you/your party has already reserved a cabin within a four-week period, please consider visiting a different location before rebooking the same cabin. If your plans change and you will no longer be using the cabin, please call and cancel your reservation so others can enjoy it.
More detailed information on individual cabins is available by clicking the links below. If you have further questions, please call the Fairbanks ADF&G office at (907) 459-7228 or the Delta Junction ADF&G office at (907) 895-4632.
See a video about ADF&G Public-Use Cabins.
See individual cabin details and reservation calendars