ADF&G Public Use Cabins
Lisa Lake Cabin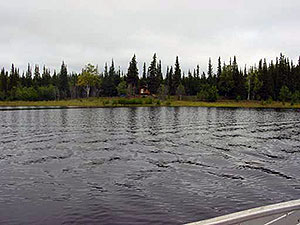 The Lisa Lake cabin is located on the northwest shore of Lisa Lake, a small (~50 acres) lake located a near the Johnson River, a mile west of the Alaska Highway, about 40 miles southeast of Delta Junction. The cabin is accessed by an overland trail about a mile long, beginning at a highway pull off/parking area at mile 1381. Much of the trail is unimproved, boggy and muddy, and rubber boots are recommended in the summer.
Lisa Lake is stocked with rainbow trout, and fishing is often productive, especially just after the ice goes off of the lake in late-May. The cabin looks out towards the south with a great view of the Macomb Plateau. There is a short walking trail from the southwest end of the lake over to the floodplain of the Johnson River.
Users should remember that they must provide their own firewood, as there is no dead or dry wood anywhere near the cabin. No PAPER PRODUCTS, cooking equipment or utensils, or lighting equipment is provided, and there are no sleeping pads on the bunk beds.

Reservation Calendar for Lisa Lake Cabin
Reservations must be:
made no more than six months in advance of the anticipated stay
made for no more than five consecutive nights
can only be made by phone at (907) 459-7228 or in person at the ADF&G office in Fairbanks
Dates in red show that that cabin is already reserved for the night of that date. You may check in after noon on the first day of your reservation and must check out by noon on day after the last night of the reservation.
October
S
M
T
W
T
F
S
1
2
3
4
5
6
7
8
9
10
11
12
13
14
15
16
17
18
19
20
21
22
23
24
25
26
27
28
29
30
31
November
S
M
T
W
T
F
S
1
2
3
4
5
6
7
8
9
10
11
12
13
14
15
16
17
18
19
20
21
22
23
24
25
26
27
28
29
30
December
S
M
T
W
T
F
S
1
2
3
4
5
6
7
8
9
10
11
12
13
14
15
16
17
18
19
20
21
22
23
24
25
26
27
28
29
30
31
January
S
M
T
W
T
F
S
1
2
3
4
5
6
7
8
9
10
11
12
13
14
15
16
17
18
19
20
21
22
23
24
25
26
27
28
29
30
31
February
S
M
T
W
T
F
S
1
2
3
4
5
6
7
8
9
10
11
12
13
14
15
16
17
18
19
20
21
22
23
24
25
26
27
28
March
S
M
T
W
T
F
S
1
2
3
4
5
6
7
8
9
10
11
12
13
14
15
16
17
18
19
20
21
22
23
24
25
26
27
28
29
30
31
April
S
M
T
W
T
F
S
1
2
3
4
5
6
7
8
9
10
11
12
13
14
15
16
17
18
19
20
21
22
23
24
25
26
27
28
29
30
Facebook
Twitter
Google+
Reddit