ADF&G Public Use Cabins
Coal Mine #5 Cabin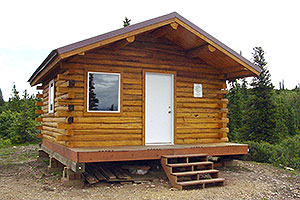 Coal Mine # 5 Pond is a small (~ 5 acres) stocked lake in the foothills of the Alaska Range, about 2 miles up the Coal Mine Road off the Richardson Highway, 24 miles south of Delta Junction. The Coal Mine Road begins at Richardson Highway mile 242.1. The Coal Mine Road is not passable by standard automobile, and requires the ground clearance of a truck or SUV.
During the summer months, many users drive the Coal Mine Road to within 1/2 mile of the cabin, but you can not drive all the way to the cabin in a highway vehicle. The road is not plowed during the winter, and users normally access the cabin by snowmachine from a parking area off the Richardson Highway. The lake is stocked with rainbow trout, and several of the other lakes off the Coal Mine Road are also stocked with either rainbow trout, Arctic char, Arctic grayling, or Chinook salmon.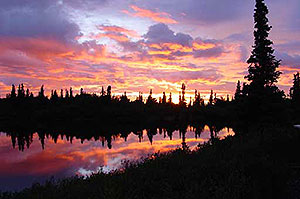 Users should remember that they must provide their own firewood, as there is no dead or dry wood anywhere near the cabin, and wood cutting is prohibited by BLM, the land manager. No PAPER PRODUCTS, cooking equipment or utensils, or lighting equipment is provided, and there are no sleeping pads on the bunk beds.

Reservation Calendar for Coal Mine #5 Cabin
Reservations must be:
made no more than six months in advance of the anticipated stay
made for no more than five consecutive nights
can only be made by phone at (907) 459-7228 or in person at the ADF&G office in Fairbanks
Dates in red show that that cabin is already reserved for the night of that date. You may check in after noon on the first day of your reservation and must check out by noon on day after the last night of the reservation.
October
S
M
T
W
T
F
S
1
2
3
4
5
6
7
8
9
10
11
12
13
14
15
16
17
18
19
20
21
22
23
24
25
26
27
28
29
30
31
November
S
M
T
W
T
F
S
1
2
3
4
5
6
7
8
9
10
11
12
13
14
15
16
17
18
19
20
21
22
23
24
25
26
27
28
29
30
December
S
M
T
W
T
F
S
1
2
3
4
5
6
7
8
9
10
11
12
13
14
15
16
17
18
19
20
21
22
23
24
25
26
27
28
29
30
31
January
S
M
T
W
T
F
S
1
2
3
4
5
6
7
8
9
10
11
12
13
14
15
16
17
18
19
20
21
22
23
24
25
26
27
28
29
30
31
February
S
M
T
W
T
F
S
1
2
3
4
5
6
7
8
9
10
11
12
13
14
15
16
17
18
19
20
21
22
23
24
25
26
27
28
March
S
M
T
W
T
F
S
1
2
3
4
5
6
7
8
9
10
11
12
13
14
15
16
17
18
19
20
21
22
23
24
25
26
27
28
29
30
31
April
S
M
T
W
T
F
S
1
2
3
4
5
6
7
8
9
10
11
12
13
14
15
16
17
18
19
20
21
22
23
24
25
26
27
28
29
30
May
S
M
T
W
T
F
S
1
2
3
4
5
6
7
8
9
10
11
12
13
14
15
16
17
18
19
20
21
22
23
24
25
26
27
28
29
30
31
Facebook
Twitter
Google+
Reddit