ADF&G Public Use Cabins
George Lake Cabin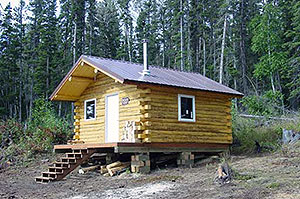 The George Lake cabin is located on the northeast shore of George Lake, a large (6+ square miles) lake located across the Tanana River from the Alaska Highway, 37 miles southeast of Delta Junction. The lake is accessed from George Lake Landing, where there is a short road from the turn-out at Alaska Highway mile 1385 down to an unimproved boat launch on the Tanana River.
There is excellent fishing for both northern pike and burbot at George Lake, and Arctic grayling can be caught in George Creek. The most popular fishery at George Lake is the spring northern pike fishery, which takes place in March and early-April, and then again in June. George Lake is closed to fishing for northern pike from April 21 to May 31 to protect fish during the spawning period.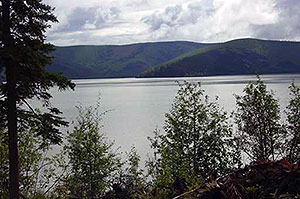 The lake is usually accessed by snowmachine between late-November and mid-April, by way of a 4-mile overland trail from the north bank of the Tanana to the lake outlet. Access from breakup through freeze-up is by jet boat via the Tanana River and George Creek. George Creek is quite small, and low water in late-summer can make boating the river challenging or impossible. The lake can also be accessed by float and ski plane as conditions allow.
Users should remember that they must provide their own firewood, as there is no dead or dry wood anywhere near the cabin, and virtually all of the lake is surrounded by private land. No cooking equipment or utensils, or lighting equipment is provided, and there are no sleeping pads on the bunk beds.

Reservation Calendar for George Lake Cabin
Reservations must be:
made no more than six months in advance of the anticipated stay
made for no more than five consecutive nights
can only be made by phone at (907) 459-7228 or in person at the ADF&G office in Fairbanks
Dates in red show that that cabin is already reserved for the night of that date. You may check in after noon on the first day of your reservation and must check out by noon on day after the last night of the reservation.
October
S
M
T
W
T
F
S
1
2
3
4
5
6
7
8
9
10
11
12
13
14
15
16
17
18
19
20
21
22
23
24
25
26
27
28
29
30
31
November
S
M
T
W
T
F
S
1
2
3
4
5
6
7
8
9
10
11
12
13
14
15
16
17
18
19
20
21
22
23
24
25
26
27
28
29
30
December
S
M
T
W
T
F
S
1
2
3
4
5
6
7
8
9
10
11
12
13
14
15
16
17
18
19
20
21
22
23
24
25
26
27
28
29
30
31
January
S
M
T
W
T
F
S
1
2
3
4
5
6
7
8
9
10
11
12
13
14
15
16
17
18
19
20
21
22
23
24
25
26
27
28
29
30
31
February
S
M
T
W
T
F
S
1
2
3
4
5
6
7
8
9
10
11
12
13
14
15
16
17
18
19
20
21
22
23
24
25
26
27
28
March
S
M
T
W
T
F
S
1
2
3
4
5
6
7
8
9
10
11
12
13
14
15
16
17
18
19
20
21
22
23
24
25
26
27
28
29
30
31
April
S
M
T
W
T
F
S
1
2
3
4
5
6
7
8
9
10
11
12
13
14
15
16
17
18
19
20
21
22
23
24
25
26
27
28
29
30
May
S
M
T
W
T
F
S
1
2
3
4
5
6
7
8
9
10
11
12
13
14
15
16
17
18
19
20
21
22
23
24
25
26
27
28
29
30
31
Facebook
Twitter
Google+
Reddit