Tanana River Management Area (TRMA)

Fishing Information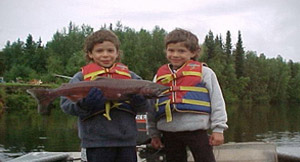 Throughout the Tanana River Management Area (TRMA) both wild and hatchery produced fish are available to anglers in a variety of habitats, ranging from small roadside ponds to clear spring fed streams. There are 18 fish species indigenous to the Tanana River drainage, 6 of these are commonly targeted by sport anglers. They include: king (Chinook) and coho (silver) salmon, Arctic grayling, burbot, lake trout, and northern pike.
Rainbow trout are not native to the drainage, but have been stocked in many lakes. Arctic char, coho (silver) salmon, king (Chinook) salmon, and Arctic grayling are also stocked in select lakes of the Tanana River drainage.
Opportunities for sport angling are available year–round in the TRMA. During the open water seasons sport fishing may occur wherever game fish are present, subject to time and/or area closures. Winter effort focuses on lakes stocked with hatchery fish, with some effort directed toward lake and river populations of burbot and northern pike.
Popular locations to go sport fishing in the Tanana River Area and the fish species available:
| | Arctic Grayling | Burbot | Coho Salmon | King Salmon | Lake Trout | Northern Pike | Rainbow Trout | Sheefish |
| --- | --- | --- | --- | --- | --- | --- | --- | --- |
| Brushkana River | Yes | No | No | No | No | No | No | No |
| Chatanika River | Yes | No | No | Yes | No | Yes | No | Yes |
| Chena River | Yes | Yes | No | Yes | No | Yes | No | Yes |
| Delta Clearwater River | Yes | No | Yes | No | No | No | No | No |
| Fielding Lake | Yes | Yes | No | No | Yes | No | No | No |
| George Lake | No | Yes | No | No | No | Yes | No | No |
| Harding Lake | No | Yes | No | No | Yes | No | No | No |
| Minto Flats | No | No | No | No | No | Yes | No | No |
| Quartz Lake | No | No | No | No | No | No | Yes | No |
| Salcha River | Yes | Yes | No | Yes | No | No | No | No |
| Tanana River | No | Yes | No | No | No | Yes | No | Yes |
| Tangle Lakes | Yes | Yes | No | No | Yes | No | No | No |
| Volkmar Lake | No | No | No | No | No | Yes | No | No |