Gustavus Wildlife Viewing

Icy Strait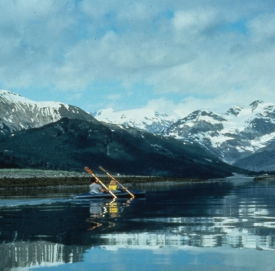 Icy Strait is the primary passage for water flowing between the open Pacific Ocean and the northern Inside Passage. Humpback whales, sea otters (in the kelp beds near islands), Steller sea lions, Dall's porpoises and killer whales are drawn to Icy Strait by the abundant food sources. Point Adolphus on the southern shore of Icy Strait is especially well known for whale watching. Look for marbled murrelets, pigeon guillemots, Pacific loons, pelagic cormorants, black-legged kittiwakes and surf scoters in Icy Strait throughout the summer.
Species
Harbor Seal
Humpback Whale
Killer Whale
Loons
Marbled Murrelet
Pelagic Cormorant
Pigeon Guillemot
Sea Otter
Steller's Sea Lion
Surf Scoter
Hints
Multi-day charters are a great way to increase your chances of seeing wildlife. Local operators offer extended trips (tailored to a range of ability levels) that combine boat tours, kayaking and overnight camping into a multi-day adventure.
Facilities
Fee
Wheelchair Accessible
Within Walking Distance
Notes
Guided multi-day kayak tours also explore Icy Strait and Point Adolphus. Many accommodations in town will arrange an Icy Strait wildlife tour, or you can check with the Gustavus Visitor's Association for information.
Plan to spend at least: 4 - 6 hours
Best Months
█ Best Month
Jan

uary

Feb

ruary

Mar

ch

Apr

il

Best Month

May

Best Month

Jun

e

Best Month

Jul

y

Best Month

Aug

ust

Best Month

Sep

tember

Oct

ober

Nov

ember

Dec

ember
Directions
Boat tours to Icy Strait depart from the Gustavus dock (found just south of the main intersection in town) daily in the summer.
Contact
Gustavus Visitor's Association - (907) 697-2854 or http://www.gustavusak.com