Gustavus Wildlife Viewing

Glacier Bay Boat Tour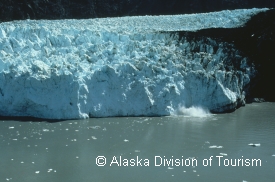 An eight-hour boat tour takes visitors into the heart of Glacier Bay for dramatic views of tidewater glaciers. Look for humpback and killer whales along the way. You might spot sea otters floating on their backs feeding on shellfish, or wrapped up in kelp beds. Tours stop near South Marble Island, an important seabird colony where you may see nesting pelagic cormorants, common murres, black-legged kittiwakes, pigeon guillemots and tufted puffins. Watch and listen to the Steller sea lions hauled out at the north end of South Marble Island. Elsewhere in the park, mountain goats and brown bears might be spotted. Harbor seals haul out on the icebergs that calve off tidewater glaciers. Watch for Kittlitz's murrlets circling and diving in the waters around tidewater glaciers, especially after a glacial calving.
Species
Brown Bear
Common Murre
Harbor Seal
Humpback Whale
Killer Whale
Mountain Goat
Pelagic Cormorant
Pigeon Guillemot
Puffins
Sea Otter
Steller's Sea Lion
Hints
Check with the National Park Service or the Gustavus Visitor's Association for details on other tours that operate in Glacier Bay. Local operators offer extended charters that combine kayaking, backcountry camping, overnight boat tours and other experiences into a multi-day adventure. Packaged and individualized trips are available, tailored to a range of ability levels.
Facilities
Fee
Interpretive Signs
Restrooms
Wheelchair Accessible
Notes
Boat tours include narration from a park ranger, kayak drop-off service, on-board lunch and other amenities. Not all boats are wheelchair accessible; ask when booking your tour.
Plan to spend at least: 8 hours +
Best Months
█ Best Month
Jan

uary

Feb

ruary

Mar

ch

Apr

il

Best Month

May

Best Month

Jun

e

Best Month

Jul

y

Best Month

Aug

ust

Best Month

Sep

tember

Oct

ober

Nov

ember

Dec

ember
Directions
Most boat tours leave from Bartlett Cove, which is the infrastructure and visitor services hub for Glacier Bay.
Contact
National Park Service - (907) 697-2230 or http://www.nps.gov/glba/ Gustavus Visitors Association - (907) 697-2854 or http://www.gustavusak.com
Additional Information