Gustavus Wildlife Viewing

Gustavus Forelands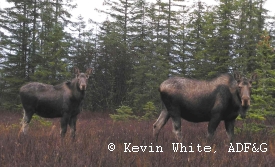 The community of Gustavus rests on the broad, flat expanse of the Gustavus forelands, the largest flat plain in Southeast Alaska. Each winter, as the snow pack grows, moose concentrate on the flats to browse on willow and other low-lying plants. Moose are a relatively new member of the Gustavus community, with the first few colonizers arriving in the mid 1960s. By the 1990s they were common, and the Gustavus forelands now has one of the highest densities of moose in Alaska. Common winter birds include chestnut-backed chickadees, golden-crowned kinglets, pine siskins and white-winged crossbills. Horned grebes, red-breasted mergansers, common loons and all three scoter species are often seen in the waters off Gustavus. Moose may be seen during the summer as well, but desnities are much higher during the winter.
Habitat
Moose are often seen near the beach, where the snow is not as deep.
Species
Hints
Look for moose sign like tracks and chewed branches to know that moose are in the area.
Facilities
Hiking Trails
Within Walking Distance
Notes
There is moose hunting in Gustavus in the winter, when moose densities are high. Be aware of when moose hunts are taking place, and plan a trip accordingly.
Plan to spend at least: 2 hours - full day+
Best Months
█ Best Month
Best Month

Jan

uary

Best Month

Feb

ruary

Best Month

Mar

ch

Apr

il

May
Jun

e

Jul

y

Aug

ust

Sep

tember

Best Month

Oct

ober

Best Month

Nov

ember

Best Month

Dec

ember
Directions
The Gustavus forelands surround the community of Gustavus, so moose can be spotted anywhere in or near town.
Contact
Gustavus Visitor's Association - (907) 697-2854 or http://www.gustavusak.com
Additional Information