Alaska Department of Fish and Game
---
Buyers/Exporters/Processors Permits
The Alaska Department of Fish and Game (ADF&G) jointly issues permits with DOR.
Beginning February 22, 2016 there will be a new online application process to renew your processing and buying permit through the Alaska Department of Revenue's (DOR) Revenue Online. This will be the fastest and easiest way to have your permit issued. More information about Revenue Online can be found on the Revenue Online Help page. For assistance with obtaining a DOR letter Id to Enroll in Revenue Online please contact (907)269-0041 or (907)269-6627.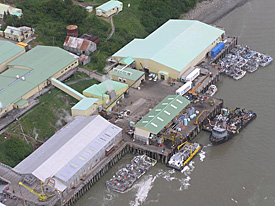 If you intend to buy, process or export a fishery resource you must obtain a Fishery Business License from the Department of Revenue, an Intent to Operate from ADF&G and depending on your activity you may also be required to obtain permits from Department of Environmental Conservation or federal fisheries permits. There are several Fishery Business License types. For a list of Fishery Business and ADF&G only license types and allowable activities please see the links below. If you are unsure which license type you need please contact the Department of Revenue at (907) 465-2320 or http://www.tax.alaska.gov/programs/about/contacts.aspx.
SPECIAL NOTE: Please note that paper copies are not available online for a Fishery Business License. To obtain a paper copy please call Department of Revenue at (907) 465-2320 or ADF&G at (907) 465-6131. For questions regarding permitting please contact Fish and Game's Seafood Industry Coordinator at dfg.seafood-coord@alaska.gov or (907) 465-6131.
Additional Information
Facebook
Twitter
Google+
Reddit

Section Navigation
Commercial Fishing Licenses & Permits
Commercial Fishing Licenses & Permits
Related-Licensing
Alaska Department of Fish and Game
P.O. Box 115526
1255 W. 8th Street
Juneau, AK 99811-5526
Office Locations