Alaska Department of Fish and Game
---
Facebook
Twitter
Google+
Reddit

What is Processing?
Processing is defined in regulation by ADF&G, DOR, DEC, and NMFS. The different managing agencies define processing very similarly, but there are a few differences.
Processing includes: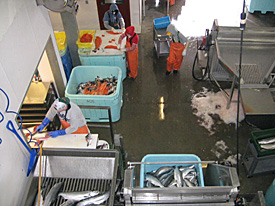 Cooking/Steaming
Canning
Smoking
Salting/Brining (wet or dry)
Drying
Freezing
Heading (DOR only)
Packaging (DOR)
Butchering (DOR & DEC)
Shucking (DOR & DEC)
Pickling (DOR & DEC)
Retort Thermal (DOR & DEC)
Roe Recovery (DEC only)
Gutting, gilling, or icing are not considered processing. Heading shrimp is not considered processing.
Secondary Site Navigation
Commercial Fishing Licenses & Permits
Commercial Fishing Licenses & Permits
Related-Licensing
Alaska Department of Fish and Game
P.O. Box 115526
1255 W. 8th Street
Juneau, AK 99811-5526
Office Locations