Alaska Department of Fish and Game
---
Facebook
Twitter
Google+
Reddit

Direct Marketers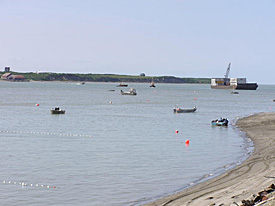 If you intend to sell, process, or export only your own catch or have your catch custom processed you qualify for the Direct Marketer license. To qualify for a Direct Marketer License you must also own or lease your own vessel which can not exceed 65 feet in length and you need a permit from the Commercial Fisheries Entry Commission or IFQ permit for the current year. A Direct Marketer license does not allow you to purchase fish from other fisherman for resale, or to custom process for other fisherman.
Need a Direct Marketer permit?
NOTICE: Beginning February 22, 2016 there will be a new online application process to renew your Direct Marketer permit through the Alaska Department of Revenue's (DOR) Revenue Online. This will be the fastest and easiest way to have your permit issued. More information about Revenue Online can be found here.
APPLY ONLINE:
https://myalaska.state.ak.us/TAXOPAL
Please note that paper copies are not available online. To obtain a paper copy please call Department of Revenue at (907) 465-2320
If you intend to process your own catch to enter into commerce for human consumption, or have questions about processing, please see the Department of Environmental Conservation's publication, Commercial Marketing or Processing of Seafood on Vessels (PDF 252 kB).
A helpful tool has been created by the Marine Advisory Program to assist Direct Marketers. Please see their website: http://seagrant.uaf.edu/bookstore/pubs/MAB-53.html
Secondary Site Navigation
Commercial Fishing Licenses & Permits
Commercial Fishing Licenses & Permits
Related-Licensing
Alaska Department of Fish and Game
P.O. Box 115526
1255 W. 8th Street
Juneau, AK 99811-5526
Office Locations