Alaska Department of Fish and Game
---
Most ADF&G website information and services will not be available on Sunday, October 11 as the State of Alaska will be doing planned maintenance in Juneau on that date between 5 am – 9 pm AKST. We apologize for any inconvenience this may cause.
Facebook
Twitter
Google+
Reddit

Kodiak Island Management Area

Information — Subsistence Fishing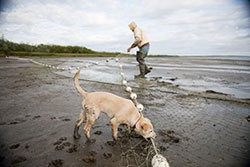 All Alaska residents have been eligible to participate in subsistence salmon fishing in the Kodiak Management Area since 1990. Permits are required to harvest salmon for subsistence purposes in the management area and are issued by the Division of Commercial Fisheries at the Kodiak office. Each year, the office mails a new permit to every permit holder who returned their permit at the end of previous fishing season. In addition, ADF&G field staff at Karluk and Olga Bay can issue permits upon request.
Other than salmon, the subsistence fisheries in the area include shellfish and halibut. Permits for the subsistence harvest of shellfish are required for King, Tanner and Dungeness crabs in the Kodiak area. Since 2003, a program for subsistence halibut fishing for rural Alaska residents has been managed by the National Marine Fisheries Service (NMFS). Eligible, rural Alaska residents are required to obtain a Subsistence Halibut Registration Certificate (SHARC) prior to fishing. There are no annual harvest assessment programs for other subsistence finfish fisheries in the Kodiak Management Area. Other fish species harvested and used by majority of households in large quantities include Pacific cod, various species of flounders, lingcod, halibut, rockfishes and Arctic char/ Dolly Varden.
Secondary Site Navigation
Subsistence Fishing
Alaska Department of Fish and Game
P.O. Box 115526
1255 W. 8th Street
Juneau, AK 99811-5526
Office Locations