Alaska Department of Fish and Game
---
Most ADF&G website information and services will not be available on Sunday, October 11 as the State of Alaska will be doing planned maintenance in Juneau on that date between 5 am – 9 pm AKST. We apologize for any inconvenience this may cause.
Facebook
Twitter
Google+
Reddit

Copper River

Overview — Subsistence Fishing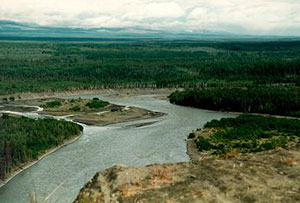 The Copper River is 300 miles long and empties in the Gulf of Alaska near the town of Cordova. The river flows through the Copper Basin which is located in Southcentral Alaska; 189 miles northeast of Anchorage and 250 miles south of Fairbanks. Access to the Copper River is accessible via the Richardson, Glenn Highways, and Edgerton highways. The Basin has a population of approximately 3,000 people living in 20 communities of varying size, many of which are located along the Copper River. The major service centers are Glennallen, Copper Center, and Chitina. The Copper Basin is home to the Ahtna, an Athabsacan speaking people who have lived in the basin for a millennium. The Upper Copper River District is organized into the Glennallen and Chitina subdistricts. A subsistence fishery takes place in the Glennallen Subdistrict and is restricted to all waters of the mainstem Copper River from the mouth of the Slana River downstream to the downstream edge of the Chitina-McCarthy Bridge. Under state regulations the Chitina Subdistrict is classified as a personal use fishery.
Copper River from Simpson Hill looking southeast. Photo by William E. Simeone
Secondary Site Navigation
Subsistence Fishing
Alaska Department of Fish and Game
P.O. Box 115526
1255 W. 8th Street
Juneau, AK 99811-5526
Office Locations