Alaska Department of Fish and Game
---
Most ADF&G website information and services will not be available on Sunday, October 11 as the State of Alaska will be doing planned maintenance in Juneau on that date between 5 am – 9 pm AKST. We apologize for any inconvenience this may cause.
Facebook
Twitter
Google+
Reddit

Bering Sea / Aleutian Islands Area

Access — Subsistence Fishing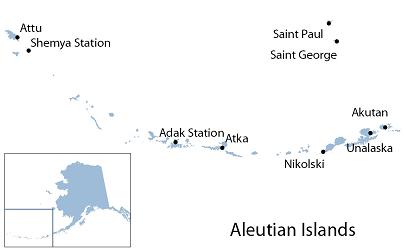 The Aleutian Islands are very remote and usually only accessible by air. Another challenge for locals and visitors alike is the weather that can change rapidly. In the Unalaska District, most fishing areas are accessible only by boat or plane from the communities. The major subsistence salmon fishing location focused on sockeye salmon harvest has traditionally been Reese Bay, which is approximately 5 miles west of Unalaska Bay. Most of the subsistence Coho salmon harvest also takes place within Unalaska Bay, in the vicinity of Nateekin River and Broad Bay. In the Adak District, subsistence salmon harvest consists mainly of sockeye salmon and is taken at Quail Bay and Galas Point on Kagalaska Island and at Hidden Bay on Adak Island. A few pink and Coho salmon are also harvested on the north side of Adak Island.
Secondary Site Navigation
Subsistence Fishing
Alaska Department of Fish and Game
P.O. Box 115526
1255 W. 8th Street
Juneau, AK 99811-5526
Office Locations