Transporting Firearms
When planning your hunt, be aware of possible rules and regulations relating to transporting firearms. State firearm laws and regulations that relate to hunters in Alaska are simple and pragmatic. Carrying hunting rifles and shotguns through Canada is not generally difficult.
Firearms in Alaska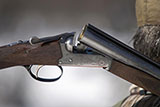 In Alaska, hunters may generally possess and use firearms with few restrictions. State law prohibits the following unless you have been issued a Federal permit to possess such a firearm:
Fully automatic firearms
Rifles with a barrel less than 16"
Shotguns with a barrel less than 18", and
Rifles or shotguns less than 26" in total length
Rifles, shotguns and handguns are legal for hunting in Alaska. Rimfire cartridges generally may be used only for small game. See the Alaska Hunting Regulations for details. State law prohibits shooting on, from or across a road. As a matter of safety and courtesy, hunters should not discharge firearms except well away from roads.
Alaska Statute 11.61.220 allows anyone 21 or older, who may legally carry a firearm to also carry it concealed without having to obtain a special permit. The possession of a firearm at courthouses, school yards, bars and domestic violence shelters is prohibited. Firearms carried in vehicles must either be in plain sight or, if concealed, out of reach of vehicle occupants. As a matter of safety, firearms being transported to or from the field should always be unloaded.
There are firearm restrictions in certain state and national park units. For current information about firearms in these areas, contact one of the Alaska Public Lands Information Centers.
If you're planning to travel by air, make sure to visit TSA's website on Transporting Firearms and Ammunition.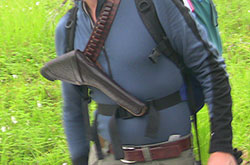 Firearms in Canada
When crossing the border into Canada, hunters must declare all firearms in their possession. Declared rifles and shotguns may be carried through Canada while in transit to Alaska. Certain types of handguns are not permitted in Canada under any circumstances. Other handguns may be carried into Canada under certain circumstances.
Declaring firearms involves filling out some paperwork, specifically Form 5589, the Non-Resident Firearm Declaration form. There is a $25 fee, payable in Canadian funds or with a credit card. The form is available at the border, or can be downloaded in advance from the Canadian Firearms Centre website (more details on that are offered at the end of the article). The form must be presented in triplicate and signed in front of a CBSA officer at the border (it is not possible to make photocopies at the border, so it will save time and effort to do some of the work in advance. Just be sure to wait until the border to sign in front of a customs officer).
According to the Canadian Firearms Centre, completing the paperwork also allows you to bring in ammunition for that firearm for personal use. Regarding ammunition, there have been many cases worldwide where American travelers arrive at a foreign destination with a single bullet somewhere in their luggage that they didn't realize was there, and they get into trouble. Don't use the same luggage for hunting as you do for other international travel.
Canadian law requires that officials confiscate any firearms, ammunition, and other weapons from persons crossing the border who deny having the items in their possession. Confiscated firearms, ammunition, and weapons are not returned. Possession of an undeclared firearm may result in arrest and imprisonment. Travelers are strongly advised to inspect all belongings thoroughly prior to travel to Canada to avoid the accidental import of firearms or ammunition.
Canada has three classes of firearms: non-restricted, restricted, and prohibited.
Non-restricted firearms include most ordinary hunting rifles and shotguns. These may be brought temporarily into Canada for sporting or hunting use during hunting season, use in competitions, in-transit movement through Canada, or personal protection against wildlife in remote areas of Canada. Anyone wishing to bring hunting rifles into Canada must be at least 18 years old; properly store the firearm for transport; and follow the declaration requirements.
Restricted firearms are primarily handguns. While they are not firearms, pepper spray, mace, and some knives also are included in this category. A restricted firearm may be brought into Canada, but an Authorization to Transport permit must be obtained in advance from a Provincial or Territorial Chief Firearms Officer. The permit allows a handgun to be in transit, for example to Alaska, but a permit would not be issued to someone simply vacationing in Canada.
Prohibited firearms include fully automatic, converted automatics and certain military style weapons, including weapons designed for civilian use. A full list of prohibited weapons is available on the Canadian Firearms Centre website. Prohibited firearms are not allowed into Canada. Handguns with a barrel length of less than 105 mm, about 4 1/8 inches, are completely prohibited, and .25 and .32 caliber handguns are prohibited.
The Non-Resident Firearm Declaration (form RCMP 5589).
The best source for more information on carrying firearms into or through Canada is the Royal Canadian Mounted Police website, or a call to the Canada Firearms Center at 1-800-731-4000; request Extension #9026 if you will be entering Canada at the Alberta border and Extension #9530 if entering from British Columbia.
U.S. citizens may find it helpful to register firearms with U.S. Customs before traveling through Canada in order to prove ownership: https://help.cbp.gov/app/answers/detail/a_id/737/~/u.s.-residents-or-citizens-moving-or-transporting-personal-belongings-through .