Alaska Department of Fish and Game
---
Most ADF&G website information and services will not be available on Sunday, October 11 as the State of Alaska will be doing planned maintenance in Juneau on that date between 5 am – 9 pm AKST. We apologize for any inconvenience this may cause.
Facebook
Twitter
Google+
Reddit

Lodging Accommodations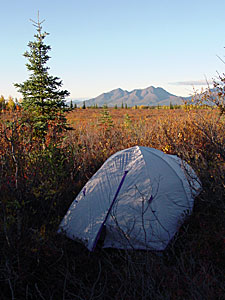 Overnight hunting accommodations can vary from a small tent on the side of a mountain to deluxe wilderness lodges with more comforts than home. Some Alaska guides maintain first-class hunting lodges in good big game country. Other operators provide fine lodging without a guide. Some provide weather-tight cabins with few luxuries.
The state and federal governments maintain public use cabins, especially in Southeast and Southcentral Alaska. These cabins are fairly primitive. They may have plywood bunks, a wood or oil stove (check in advance as to which is available in your cabin), a table and benches, and a nearby outhouse. Users should bring their own food, cooking equipment, fuel, water, bedding and amenities. Check directly with Alaska State Parks, the U.S. Department of the Interior/Bureau of Land Management, the U.S. Fish and Wildlife Service, and U.S. Forest Service for current information on available locations, access information and restrictions, reservation policies, and rental expense.
Cabin Reservations
Secondary Site Navigation
Alaska Hunting Information
Hunt Planning
Rules and Requirements
Equipment
Health and Safety
Game Meat
Hunting Tips
More Resources
Alaska Department of Fish and Game
P.O. Box 115526
1255 W. 8th Street
Juneau, AK 99811-5526
Office Locations