Watersheds

Educational Resources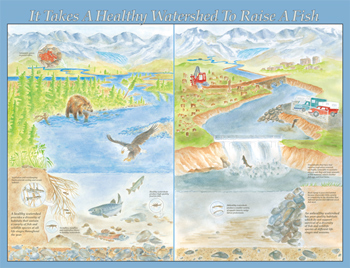 This web site has been developed as part of an educational project developed by The Alaska Department of Fish and Game, Division of Habitat and Restoration called "Watersheds, Habitat, People" which discusses fish habitat needs from a watershed perspective. It includes an educational brochure, a beautiful double-sided poster and a presentation on CD. The CD includes five PowerPoint 2000 presentations. One is an introduction to the project. Another is the entire presentation entitled "It Takes an Entire Watershed to Raise a Fish", and the other three are same presentation broken into smaller files as follows:
| File Name | Contents |
| --- | --- |
| IntroReadMeFirst | Short introduction to the contents of the CD |
| WatershedEntire | Includes 93 slides that discuss habitat needs of Alaskan fishes within watersheds and some impacts by people |
| Watershed&Habitat | Watersheds supply habitat needs for different species at different life stages and throughout different seasons |
| FishHabitatNeeds | Habitat needs of Alaskan fishes |
| PeopleHabitatWatersheds | How people may affect fish habitat in watersheds |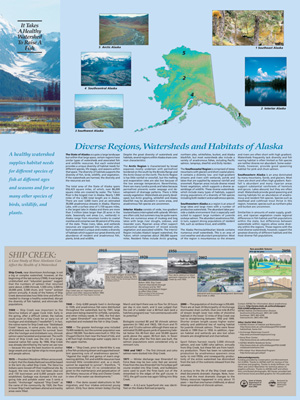 ---
If you would like more information concerning Watersheds, please contact jessica.johnson@alaska.gov, Habitat Biologists, Alaska Department of Fish and Game.