Pack Creek/Stan Price Wildlife Sanctuary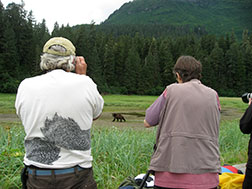 At a Glance
Pack Creek (also known as the Stan Price State Wildlife Sanctuary) is located about 40 miles south of Juneau in the northeast corner of Admiralty Island. Native Tlingit people call the island "Kootznoowoo," or "Fortress of the Bears." The island is home to an estimated 1,500 brown bears. The sanctuary is cooperatively managed by the Alaska Department of Fish & Game and the U.S. Forest Service to provide bear viewing opportunities with minimal impact to the bears. Permits are required to visit Pack Creek from June 1 through September 10. See "Contact Information" to learn how more about permits.
Brown bears frequently roam, feed and rest along the broad estuary and tidal flat at the mouth of Pack Creek. The bears tolerate a certain amount of human presence, and visitors may often view and photograph bears fishing for salmon and interacting with each other.
Most of the bears seen at Pack Creek are sows and sow/cub groups. There is no way to predict the number of bears that will be within sight of the viewing area. Almost all visitors (more than 95%) are successful in seeing at least one bear. During peak viewing periods from mid-July to mid-August, visitors may enjoy close-up views of five or more bears during the day. Tides, weather, fish availability, and the number and activity of visitors all affect bear behavior.
Plan to stay at least a full day (or longer) for a good chance of seeing bears. Binoculars or a spotting scope will increase your opportunity to observe their behavior.
Facilities
Pack Creek is a Wilderness area. Permits are required to visit Pack Creek from June 1 through September 10. There are no facilities (i.e. bathroom, shelters or cell phone service) on site. Boots, rain gear and extra layers are recommended. Wilderness visitors face inherent risks of adverse weather conditions, isolation, physical hazards, and lack of rapid communications.
On-site staff are available to provide orientations and answer questions during your visit. Upon arrival, you will be greeted by a ranger at the South Spit and given an orientation after which you will either walk to the Viewing Spit or to the Observation Tower. The ranger will provide advice on the likelihood of seeing bears at both of these areas, but you will be free to decide where you want to go. The ranger will also review all of the rules to be followed while visiting Pack Creek.
Camping is not permitted in the bear viewing area but is allowed on nearby Windfall Island and Swan Island.
Getting There
Pack Creek is approximately 30 miles south of Juneau. There is no road to Pack Creek. Access is by floatplane or watercraft ONLY. Most visitors arrive by float plane from Juneau; the trip usually takes about 30 minutes each way.
Flights are sometimes cancelled due to high winds and poor visibility. Be prepared for this contingency by bringing rain gear, extra clothing, snacks, and any vital medications. You will also disembark at Pack Creek in 8-12 inches of water so make sure you have rubber boots.
Contact Information
Harry Tullis , Pack Creek Program Manager
US Forest Service
(907)789-6232
htullis@fs.fed.us

Chad Rice, Wildlife Technician
AK Department of Fish and Game
802 3rd Street
Douglas, AK 99824-0024
(907) 465-4265
chad.rice@alaska.gov

A permit is required to visit Pack Creek between June 1 and September 10 and allows you to visit from 9 am until 9 pm.
During peak season from July 5 to August 25, only 24 visitors are allowed per day (12 guided and 12 unguided). Permits must be obtained through ReserveAmerica.com or Recreation.gov or through the toll-free number (877) 444-6777. You may also obtain a permit through one of the approved guiding companies. Outside the peak season dates, permits may still be purchased through the websites but also from the Pack Creek staff upon arrival on site.
Golden Age and Golden Access passes are not valid for the site.
For more information visit the Alaska Department of Fish and Game website or the US Forest Service website
Gallery